Tuesday, 10/24/2017 - Jallianwala Bagh, Golden Temple, Guru Ram Das Langar, Flight to Delhi
We woke up and did some Facebook posts and showered before heading down to breakfast at around 9:45 a.m. The buffet was lovely. We had made-to-order dosas which were quite delicate and delicious, served with tomato and coconut chutneys. We enjoyed many other Indian and American breakfast items, including hash browns, fresh pineapple, muffins, cakes, Darjeeling tea, and fresh juice.

We were supposed to meet Mukul and Sunita at 10:30 to return to the Golden Temple. They had eaten breakfast earlier, and Mukul wandered into the restaurant to check on us at 10:15. We had just finished eating, so we decided to leave a few minutes early.

Mukul called an Ola taxi, which brought us to where the bus had dropped us last night. We walked along the road past vendors selling all types of goods. We passed some Rajasthani women in colorful dress sitting in a horse cart. It brought back memories of the time that we spent in Rajasthan with Mukul in 2009. We waved and said good morning. They seemed a bit taken aback by the attention from two random foreigners, but eventually smiled back at us.

After passing under a sandstone gate, we came to a pedestrian area lined with shops which eventually led to the Golden Temple. We approached a white statue depicting people's faces. An opening reveals a torch inside. This honors the Jallianwala Bagh martrys who were slaughtered when a British colonial general opened fire on unarmed innocent people. We turned left down a narrow alleyway and emerged at Jallianwala Bagh, the site of the massacre and now a memorial park honoring the victims.

On April 13, 1919, many Sikhs from all over the region had gathered here in Amritsar at the Golden Temple to celebrate the festival of Baisakhi. A lot of the assembled people were from outside of the city, and were unaware that Colonel Reginald Dyer of the British Indian Army had put the city under martial law and had banned assemblies, fearing an insurrection.

Possibly as many as 25,000 people gathered in the Jallianwala Bagh, a 6 acre walled garden area between buildings. It became a peaceful protest of unfavorable British colonial policies.

When Colonel Dyer learned of the assembly, he didn't want to disperse the crowd; he wanted to punish them. The army sealed off all of the narrow alleys that acted as exits from the park, and opened fire on the unarmed civilian crowds without so much as a warning. 1650 rounds were fired.

Rather than be gunned down, over 100 people took their own lives by jumping into a well, now known as the Martyr's Well.

The British claimed that there were 379 dead and 1,200 wounded, but India estimates that there were around 1000 killed and 1500 wounded. The following year, a trust was established to build a memorial on the site. In 1961, a monument designed by American architect Benjamin Polk was erected in the park.

The park was quite beautiful, but reminders of the horrors of the past were never far. The sandstone memorial resembled a bullet-shaped obelisk. Green topiaries were manicured to resemble soldiers aiming assault rifles. Bullet holes in the walls were outlined in white paint, lest they be overlooked. We peeked down into the Martyr's Well.

The sun was shining and its rays were hot. We tried to stick to the shade wherever possible. There were many families here. Many people wanted selfies with us and we happily obliged, though Mukul was getting restless with the timeline.

After visiting the memorial, we walked back to the Golden Temple. Though we had scarves and bandanas to cover our heads, Mukul purchased orange head coverings for us which bore the name of the temple, for "10 rupees only." "It will be a nice souvenir," he told us. He tied it onto our heads. There was a warm wind, and mine kept blowing off. Luckily, kind people helped me to retrieve it.

Men were bathing in the sarovar (man-made pool) while women bathed in a separate designated area. A Sikh man was waist deep in the water, cleaning the pool with skimmers on bamboo poles. There were large koi in the pool as well.

The late morning sun made the entire place shine. The white marble buildings along the perimeter were blinding, and the gold-plated sanctum sanctorum looked radiant.

If I had been overwhelmed and a bit intimidated by the religious fervor of the place the prior evening, a good night's sleep gave me fresh perspective. I was overcome by the beauty of the place and the kindness of the people. People stopped to talk to us, asking where we are from. They wanted to take selfies with us. They posed us with their young children. It was so welcoming.

Next we visited the Guru Ram Das Langar. Langars, volunteer-run community kitchens and dining halls, are important components of Sikh temples. Anyone is welcome to have a meal here, regardless of religion, ethnicity, gender, or caste. All of the staff are volunteers, as an act of kar seva (selfless service of others).

The scale of this particular langar is mind-boggling. Every day, between 80,000 and 120,000 people enjoy a free meal here. Mukul led us to the langar so that we could observe how it operates.

As we entered the building, men greeted people and handed them a stainless steel bowl, a segmented plate, and a spoon. They offered them to us. Although we would have loved to have partaken in this generous tradition, we had just eaten a large breakfast at the hotel, so we politely declined.

We joined the crowd and climbed the stairs to the dining room and kitchen level. We entered the dining hall, a massive empty room where people were seated in rows on the floor. Everyone is equal here; a millionaire could eat next to an "untouchable" on the same level. This style of eating is known as pangat.

Portraits of Sikh gurus hung on the walls, framed by LED lights and draped with marigolds. Volunteers made the rounds serving food. Others were constantly wetting and squeegeeing the floor to make sure that it is always clean of food debris. The place operated like a well-oiled machine, with many hands making light work.

Mukul led us into the kitchen area. Everything was so well-organized and efficient! Men and women sat together at low tables preparing food in assembly line fashion. Two men took bread dough and rolled it into small balls. They then rolled them Bocce-style over to women who used rolling pins to roll them flat.

At another station, a woman tossed these flattened pieces of dough onto a large griddle. It was giving off a lot of heat, but there were many fans to try to counteract it. Men would use a stick to cook one side, flip them, and then shuffleboard them over to a man who coated them with ghee (clarified butter). He dipped the bottom of a bowl (approximately the diameter of the bread) into a vat of ghee, and then applied it to the bread. It was a brilliant technique. The whole thing was entrancing to watch.

It was quite loud, between the kirtan music, the noise of the electric fans trying to keep the place cool, and the voices of volunteers and diners.

We enjoyed watching the whole langar process, and when we caught the eyes of the volunteers, we exchanged wide smiles with them. We have the utmost respect for their generosity and commitment. One of the men rolling the dough invited Craig to sit next to him and give it a try, but Mukul was on the move so we politely declined.

Then we went outside to observe the dishwashing process. Women sat cross-legged on the ground washing silverware. People stood in a line and handed dirty plates down to a uniformed Khalsa man with a long white beard, dressed in blue and orange. He clapped the metal plates against the side of a large metal cauldron, shaking loose the food debris. He then tossed the plates into a smaller metal cauldron.

These plates then went to washing and rinsing stations. The cacophony of the metal plates going through this process was very percussive, and complimented the religious music which was being played. We couldn't help but think that Tom Waits would appreciate this.

Three Khalsa walked by carrying spears. Craig caught their eye. They got big smiles on their faces, and one by one transferred their staffs and/or weapons into their left hands, approached him, looked him straight in the eyes, and shook his hand. It was a very moving experience for Craig. The soldier-saint persona may appear a bit intimidating, but it seems truly to be born out of the need to protect themselves against persecution. They believe in tolerance and generosity, and were absolutely kind and welcoming toward us.








After leaving the langar, we continued our clockwise cicumambulation of the temple. People stopped to talk to us and to take photos with them and their children. Everyone was so friendly!

We stopped for a few minutes to enjoy some live kirtan music. We met Mukul and Sunita at the exit where we all collected our shoes at 12:15. As we walked back through the pedestrian area, we stopped to buy bottles of water. It sure was hot in the sun! Sunita stopped at a small bodega to buy some spicy snacks to bring home to her uncle.

The plan was to go back to the hotel to gather our bags and check out by 1 p.m. Mukul called another Ola Cab, but we had trouble locating it. We wandered around the side streets, trying to stay out of the way of the cars, rickshaws, and horse carts. We retraced our steps and finally connected with our cab.

By the time we got back to our room it was 1:02 p.m., two minutes past checkout time. Our key cards had been deactivited, so we couldn't get into our rooms. D'oh! Housekeeping let us in, and we quickly gathered our things and checked out.

Our Ola Cab had waited for us. Our flight was at 2:45 p.m., and that only gave us an hour and a half to drive to the airport, check in, get to our gate, and board the flight. Craig and I don't usually cut it that close. But Mukul thought that we were actually running early. He said, "There isn't much traffic - we could have stayed an extra 30 minutes at the temple!" Craig and I weren't so sure, and Craig suggested that perhaps Mukul was a litte out of practice in his semi-retirement.

We checked in and arrived at the gate just as boarding was commencing. So much for extra time to kill. I didn't even have a chance to check gift shops for a tiny model of the Golden Temple. Oh well, at least we made the flight!

The plane was a 787 Dreamliner (Air India). It seemed odd to us to use such a large aircraft for such a short flight, but there must be a lot of demand for this route. We ate a bag of Bhutanese ema datshi flavored Happy Chips which Sonam had given to us. They were delicious!

The hour long flight was quite stressful, as a little boy in our row refused to sit in his seat - even as the plane landed. His parents were amused by this, and even the flight attendants half heartedly told him to sit but didn't enforce it. The boy slammed up against the bulkhead at landing.

Then, when we were taxiing to the terminal, two kids from the back of the plane started running down one aisle, through the kitchen, and back up the other aisle. And none of the flight attendants did anything. While disembarking, Craig told the parents that they need to learn to control their kid, and a British couple offered verbal support. The last thing we need is an unrestrained kid becoming a projectile and injuring passengers who are following the rules. Airlines claim to be all about safety, and Air India failed miserably in this regard.

Suresh picked us up in New Delhi. On the way back to Sunita's sister Renu's apartment, we stopped to visit two of Sunita's aunts. The aunts and their daughters and sons-in-law were very friendly. They served coffee and delicious homemade sweets as we chatted about current events. It was a nice visit.

Next we continued on to Renu's house. She served us a delicious homemade dinner. For dessert, we had some elaborate complicated sweets which one of Sunita and Renu's aunties had made and given to Sunita. We enjoyed chatting for a while before retiring to the guest room at 9 o'clock to get some rest prior to our early morning flight.

We spent about half an hour arranging and packing our things for the long trip home. Then we managed to take a 3 hour nap. We woke up at 11:45 p.m. and got dressed in comfortable clothes for our long journey.

We said farewell and thank you to Mukul, Sunita, and Renu. It had been lovely to get to spend time with them. We left the house at 12:15 a.m., bound for the airport.






Jallianwala Bagh




Dosas for breakfast




Entrance to Jallianwala Bagh Memorial Park




Jallianwala Bagh Memorial, designed by Benjamin Polk




Craig, Steph, and Sunita at the Golden Temple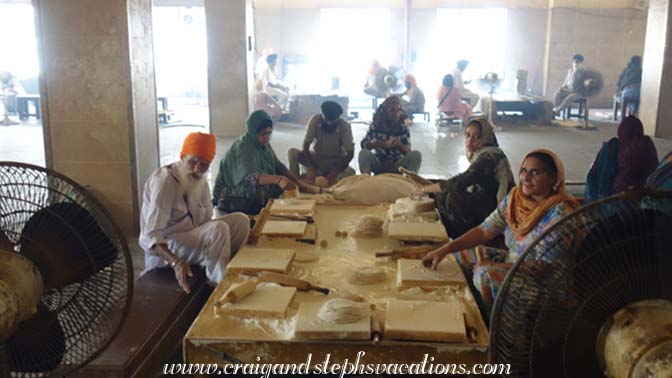 Food preparation at Guru Ram Das Langar




Griddle at Guru Ram Das Langar




Pangat




Dishwashing at the Langar




A uniformed Khalsa greets Craig




New friends




Women gaze at the Golden Temple




Visiting Sunita's family