Sunday, 9/2/2018 - Exploring Ibarra with Javier and Jess
We woke up at 7:30 a.m. this morning and ate breakfast with the family: egg and potato pancakes, coffee, ham, bread, and juice. Antonio was quite tired as he hadn't gotten home from last night's music gig until 3 a.m.

Antonio's mother, affectionately known as Abuelita, was up bright and early as usual. In her mid-80's, she still insists on eschewing modern comforts for the traditional life. She cooks outdoors over a fire, doesn't wear shoes, and sleeps on a tortora reed mat on the ground. She is one of the most joyous people we have ever met. She knows little Spanish, so our conversations never get past the pleasantries of good morning or good afternoon, but we always find ways of making one another smile or laugh.

We had a lovely day in Ibarra with Javier, Jess, and Jess's parents Norma and Diego. It was our first time visiting that city, which is about an hour's drive from Morochos.

Hector picked us up at 10 a.m. and drove us to a small park called Parque de La Familia Yacucalle where we met Javier, Jess, and her parents. Jess's mom Norma was a hot ticket; we could tell immediately that she has a great sense of humor. Jess's dad Diego practiced some English with us. He was wearing a sweater, and Craig joked with him that Craig was already sweating and couldn't even imagine wearing another layer in this weather.

The park had a lot of fun things to do, including exercise equipment, playgrounds, and a skate/BMX course. There were some concrete slides that were a lot faster than we expected. The kids loved them and I took a turn as well. Shina was afraid to go down one of the steeper ones, so she held on to Sisa and they went down together. Together, they weighed enough to give them more momentum than they expected, and they flew about 4 feet off the end of the slide, landing on their bottoms, and dissolving into hysterics.

Before we knew it, Diego had shed his sweater. Javier joked that the peer pressure had worked, and the sweater became a running joke for the remainder of the day.


Steph goes down the slide at Parque de La Familia Yacucalle



We then drove to the Parque Ciudad Blanca. It is a long flat park that was the former site of a small regional airport, where Jess's father Diego worked for 20 years.

The park has many paid activities for children: renting Power Wheels cars, renting bikes, art activities . It reminded us very much of parks we had visited in China. We hadn't seen this type of thing before in Ecuador and wondered if it was influenced by Ecuador's recent diplomatic and economic relationship with China. Neither country requires a visa for its residents to visit the other, and there has been an influx of Chinese industry in Ecuador.

One activitiy that we had not seen before consisted of "walking water balls." These are clear plastic spheres which children can enter which flost on a shallow pool of water. Kids try to stand up and run in what is essentially a soft plastic hamster ball, and much fun ensues.

Sisa and Shina wanted to try, so for $2 each they got 7 minutes inside. (Craig and I wondered if 7 minutes was the max you could stay inside due to oxygen levels...did they start out with 10 minutes and have to change it due to kids passing out? Inquiring minds want to know! )

Each kid got into a deflated plastic bubble, and a guy inflated it with a leaf blower. They would crawl and roll around, eventually trying to stand up. If they managed to stand, they would try to run. Inevitably, they would fall down, cushioned by the water underneath their plastic bubble. It was a great time and they really enjoyed it (though they were hot and tired when their 7 minutes expired).



Shina and Sisa play in the walking water balls at Parque Ciudad Blanca



We walked around the park and the kids played on the playground swings and see-saws (it was so cute to see Jess's dad on one end of the see-saw with Shina on the other!). We took some group photos in front of an Ibarra sign, a mural of Simon Bolivar painted on glass, and a fountain with dolphin statues.

Next we went to the Mirador Arcangel San Miguel. Much like the statue of the Virgin who overlooks Quito, this large statue overlooks the sprawling city of Ibarra. He is the town's patron saint (the town was previously called San Miguel de Ibarra).

Unlike when we visited the Virgin statue with Sonam, we were able to climb up inside the statue for a gorgeous panoramic view of the city and nearby Lake Yahuarcocha. It cost 25 cents to climb.

The first part of the climb was an easy spiral staircase, but then we had to climb a ladder. Jess bravely went first and even opened the hatch door at the top. She then helped to pull the kids up, and the rest of us followed and helped the kids from behind. It wasn't too difficult because you could lean your back on the stairwell for leverage. We were especially happy that Craig was able to make it (he hung his cane from his wrist as he climbed the ladder.)

The viewing platform was quite small, and there were already a couple of people up there. Once the nine of us joined them, it was quite tight. Moving around to get a view from a different angle required coordination, like you were performing a slide puzzle. Yupanqui became frightened of going near the edge, and positioned himself at the dead center of the platform. He joked that he would stay right there, even sleeping there, so he didn't need to go back down the ladder.

The rest of us enjoyed the gorgeous views of town and the lake. Javier, Hector, and Jess's parents photographed us from below.

Next we went to Los Asados de Don Chuqui for a lovely lunch. We walked down the path through beautiful, colorful gardens to enter the cavernous dining hall. It was like a hangar; the kind of place which could accommodate 10 tour buses worth of diners at least. It was a beautiful Sunday, and tables were filled with families, from babies to grandparents. If they were tourists, they were local tourists who had come to the lake for the day.

Our party of thirteen (including Hector) got settled around the table. There was a menu of around 5 plate dinners, and Jess and Javier organized our order. They then went and stood in a long line at the cash register to place the order. Unlike most places that accommodate this many diners at once, this place was not a buffet. All of the food was cooked to order. This meant a long wait, but we entertained ourselves. We chatter with Norma and Diego, who were quite friendly and fun.

The kids played outside in the garden. There was playground equipment there, and the weather was beautiful. You could watch the fish being roasted. Each time a server called out a number, we hoped that it was ours. It became a running joke.

Finally our food was served, along with a complimentary pitcher of lemonade. Craig and I had pork ribs, baked beans, patacones (fried flattened plantain slices), and rice. Others got soup and fish (tilapia which comes fresh from the lake).

By around 3:30, we said our farewells. Javier and Jess have to drive back to Quito tonight (they work at a university and school starts tomorrow for them). We are so grateful to them and Jess's parents for such a warm welcome to their city. We enjoyed their company so much, and the kids really love them as well. The kids opted to ride in their car rather than ours when traveling around Ibarra. What a fantastic day!

As we were stuck in traffic exiting Ibarra, we noticed that their car was right behind us. We looked back and saw them waving frantically, with Jess and Norma sticking their heads out the window with huge smiles on their faces. They had obviously enjoyed themselves as much as we had!

We arrived home at around 4:45 p.m. The sunset was absolutely gorgeous this evening. After a big, late lunch, nobody was very hungry for dinner. So we each ate a bowl of soup and then called it a night after a busy and satisfying day!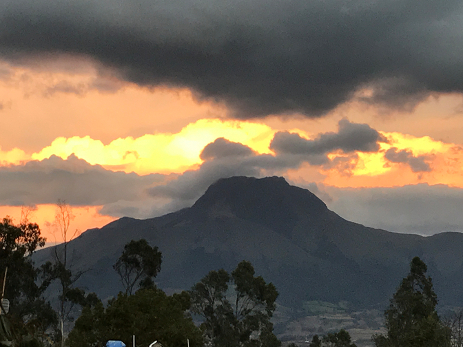 When we got back to the casita, Facebook informed us that one year ago today, Sisa started English classes in Otavalo every Saturday. She was the youngest student in a class of adults. She graduated and the teacher recommended that she take advanced classes elsewhere, since she had already mastered what their school had to offer. She is now starting advanced classes in Ibarra. We really admire her commitment to learning English. Ibarra is an hour from home, and she has to take several buses to reach there. She will have two 2-hour lessons per week in addition to her normal schooling in the village. She dreams of being an English teacher some day, and at the rate she is going, we are sure that she will achieve her dreams!







Parque de La Familia Yacucalle



Parque Ciudad Blanca



Mirador San Miguel Arcangel


Abuelita in her outdor kitchen




Shina and Sisa get more than they bargained for as they double up on the slide




Shina and Sisa in walking water balls




Jess and Craig in front of Mount Imbabura




Ibarra: Jess, Javier, Sisa, Antonio, Yupanqui, Shina, Steph, Rosa, Aida, and Craig




Arcangel San Miguel




Atop the tower of Arcangel San Miguel




Norma, Diego, Jess, and Javier