Tuesday, 9/4/2018 - Family Hijinks
Today I woke up early so that I could work remotely. I set up my laptop in Rosa's sewing room on the second floor, which gave me some privacy for calling into meetings.

We had my favorite breakfast this morning: crepes filled with homemade strawberry marmalade, homemade juice, and coffee.

The kids walked up to the school to register for the new school year, but found that the actual registration would be tomorrow. This is often how things happen around here. You don't find out until you are actually there that something has been postponed.

Due to my meeting schedule, I had to eat lunch in my "office": soup with popcorn, beef with carrots, beets, rice, and juice.

This afternoon, Antonio and Rosa took Sisa to Otavalo to buy a white board. They are going to hang it in the dining room so that Sisa can use it to teach English to Yupanqui and Shina! We are so proud of this 10 year old!

When they returned home with the new white board, they brought us back these amazing parfaits filled with whipped cream and fruit...and the entire sundae dish that it was in turned out to be made out of chocolate! They handed one to me and Craig and I planned to share it...until they handed another one to him. They were so delicious! Talk about spoiling our dinner! We couldn't even finish them, and passed the leftovers on to Rosa and the kids. We were in a sugar coma for the rest of the day.





Parfait




Antonio has been building some new speaker cabinets, and the kids used the scrap wood to make casitas for their dolls. They also rolled some of the round pieces like bowling balls. We love seeing the creativity they display when playing with found objects.

There was a beautiful sunset tonight. Mount Imbabura evoked Uluru (Ayers Rock) in Australia in our minds, shining in the red glow of the sunset.

For dinner, we had habas soup, pasta, and juice. Nobody ate all that much thanks to those chocolate parfaits. Craig had brought some Chinese pepper sauce which comes from Guizhou. Rosa had liked it very much last time, though it had been a bit too spicy for Antonio. But it seems to have grown on Antonio, and he now is a full-blown convert. Craig realized that the two bottles that he had brought would not be enough for our entire stay. We would need to bring more next time to satisfy the demand! Wang Jun in China would be proud.

We planned activities for the following weekend. We would go school shopping in Otavalo on Saturday (weekly big market day), and on Sunday we would go to Intag. There are hot spring pools there that the kids, especially Shina, love. The Spanish word for pool is "piscina," but we jokingly call it "piSHINA" since Shina is such a water baby. Antonio got in on the act and started calling her "piCHINA" after the Chinese pepper sauce.

Everyone was very punchy at dinner (blame the parfaits?), and the kids and Aida had a tickle-fest. Towards the end, Yupanqui actually fell off the edge of the table (not hurting himself, but prompting a whole new burst of hysterics). Our faces hurt from smiling and laughing so much.




Hijinks at dinner





For my part, my punchiness manifested itself by referring to Chipi the cat as "El Señor Chipikins." Everyone thought that was hilarious, and the kids jumped right on it. They started to bow and kneel to him, asking his permission to go to the bathroom and to go to bed ("Permiso, El Señor Chipikins"). They even blessed him as though they were baptizing him ("en el nombre del Padre, Hijo, y Espiritu Santo").

When Antonio later addressed him as "Chipi", we all informed him that he should be addressing him by his title instead of his familiar name.

We haven't laughed so hard in a long time!




El Señor Chipikins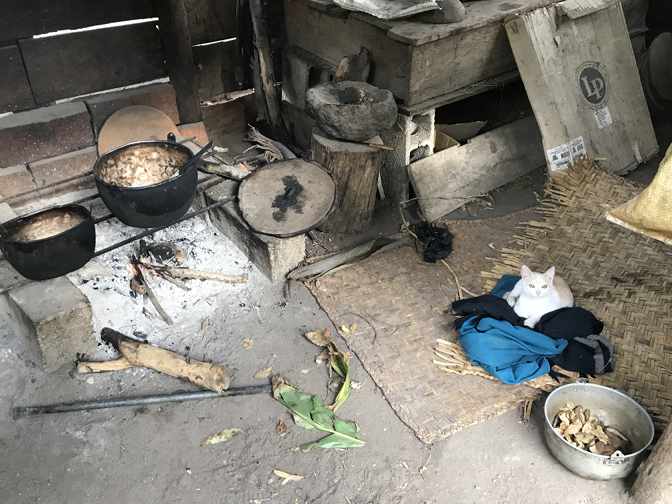 Chipi in Abuelita's outdoor kitchen




A new white board for Sisa to teach English to her siblings




Sunset over Imbabura




Craig, Yupanqui, Aida, Rosa, Antonio, Shina, and Sisa