We were very excited to be spending the 4th of July holiday weekend with our friends Humberto and Paulina and their girls in Guatemala. We had last visited in November for Aracely's baptism. We woke up at 3:30 am and left for the airport at 4:30, arriving at Logan at 5:02. You can now check in at an automated kiosk even if you have an international destination, and We did this and avoided a very long line. We passed a Starbuck's and I took a photo of their "Antigua Guatemala" coffee poster.We ate breakfast at the McDonald's at the food court and watched the sun rise over the tarmac. Our flight left on time at 6:55. Craig volunteered us for an exit row at the gate. We were able to board a group early because of it, but Craig had to have a middle seat. It was worth the hassle for the more spacious seats.

We landed on time at 10:10 in Miami. We had Pizza Hut for lunch and took off again at 12:45, landing in Guatemala City at 1:25. We only had carry-on luggage, so we proceeded to immigration. There was absolutely no line. The woman checking our passports made note of something and showed our passport to the agent next to her. Uh-oh, what was wrong? Were they going to give us a hard time? No, it just turned out that she thought our stamp of a tortoise from the Galapagos was cute and she wanted to show it to him. Phew.

A driver named Ronaldo picked us up immediately, and we drove to Antigua. We passed the familiar ancient aqueducts of Guatemala City and could see ominous pitch black clouds approaching. Sure enough, soon we were in the middle of a massive thunderstorm. Torrential rain poured down causing rivers to flow down the main road, and the whole thing was punctuated by huge lightning bolts and deep thunder. We were glad that we weren't the ones behind the wheel, as the visibility was pretty bad.

The rain subsided by the time we reached Voyageur Travel at the La Fuenta plaza in Antigua, which meant that we would have good weather for walking around while we waited for our shuttle to Panajachel. We dropped off our things in the Voyageur Travel office and used their restroom. I couldn't resist taking a picture of the sink in the ladies room, white porcelain with flaking gray paint. It was so weathered that it looked like a work of art.

We headed out for a walk through town. We usually walk down to La Merced church, but we decided to take a different route today to see some other sites. We came across a yellow church which was in the process of being restored. It had massive stained wooden doors, with smaller doors inset into them. The facade had various niches carved into it. Then we found a very picturesque plaza which had a row of public cement washing basins for laundry. Horse carriages and their drivers waited for customers, pulled over onto the side of the road next to the plaza. Every street was incredibly beautiful, with rows of cheerfully colored buildings with beautiful architectural details such as wooden doors,elaborate moulding, and red tile roofs. The sidewalk was made of pavers. Garishly decorated chicken buses share the roads with cars, motorcyles, and tuk-tuks. We saw a very run down, tiny yellow church. Its paint was fading and the trim, once white, was black with age and pollution. A cross hung crookedly above the front door.

Then we walked to the Iglesia de San Francisco, which we hadn't visited since Easter in 2004. An archway separated the street from the churchyard, and some food vendors had parked their carts here.The church's white facade was adorned with columns and niches bearing statues of saints and angels. Pigeons roosted atop the statues, giving it a rather gothic flair. We saw the massive churchbells in the squared off tower. To the right of the church was a small garden.

We went into a artisan's shop called Casa de los Gigantes. It reminded me a bit of Casa de Artes, where we had bought a beautiful huipil on our first trip to Antigua. They had giant costumes, marimbas, and all kinds of handicrafts from throughout the area. They had life-sized Maximon effigies seated around a table in a vignette, surrounded by aguardiente liquor and candles. They had a lot of interesting items, and we enjoyed browsing around. We bought a Mayan Papier mache doll which was hand-painted and very cute. We also talked to a woman who was in the process of adopting an adorable Guatemalan baby.

We walked back to the Parque Central and got a photo of the Catedral. We walked up one of the side streets to take a peek at La Sin Ventura, the hotel where we had stayed back in 2004. After snapping a photo, we headed back to Voyageur Travel and looked at some maps of the area while we waited. This is always when we feel the most anticipation. So close and yet so far. After a long day of traveling we are in Guatemala, but are still three hours' van ride from the family. We wish that we could just teleport ourselves to their house.

The van, with several passengers already aboard, picked us up at 4:10. There were two rows of passenger seats and Craig and I had to split up between the two rows. Then the driver stopped to pick up a local Mayan man. They unfolded the third row of seats and asked us to sit back there, which we happily did. This would be more comfortable for the long ride to Panajachel. They drove us to a service station. The Mayan man got out, and they told us to get out of the third row ofseats. We crammed back into the other rows while they folded up the 3rd row to make room for an engine and a playpen in the back of the van. I was now seated in the little fold-down jump seat, and had a metal bad digging into my spine. We were both uncomfortale, and it made the ride seem even longer. By now we just wanted to be in Panajachel.There were massive downpours on the ride, and rivers were running through the road, washing out various sections. We chatted with a couple named Amanda and Max, and looked out the window at the rain. In the past we have seen some gorgeous sunsets during the ride, but not today.

The ride took about 2 1/2 hours. When we arrived in Pana it was pouring rain. Humberto was in his office when we arrived, and we chatted with him there for a few minutes. Soon Paulina, Aracely, and Paola showed up to greet us. Aracely had grown so much since November! Her hair was longer, and her face was starting to resemble Yasmin and Yoselin's. She was a little bit standoffish and shy at first, but she did give us hugs. It was so good to see our ahijada (godchild) again! We greeted Paulina and Paola with big hugs as well We walked together down the dark path to the house. We saw the girls' cousins Rocio and Luis along the way and said hello. Yoselin ran up to me and beeped my nose.

Craig was the first to notice the newest member of the family - Terry the dog. He was very friendly and seemed happy to meet some new friends. Paulina and Humberto brought us to our room, which now had solid windows and doors and a functioning bathroom. It looked great and we were very proud of the work that Humberto had done in the past 6 months. We greeted Vanesa with big hugs, and realized that one girl was missing. We immediately went to the girls' room to find Yasmin, who was in bed. She seemed sad at first but perked up quickly.

We had rosa jamaica tea and bread at the dining table. Teatime is always one of our favorite family times. There are many delicious types of bread and rolls, some covered with sugar. We always enjoy good conversation while enjoying the sweet tea. Paola was making Terry jump for bites of bread. "TerryTerryTerry!" the girls would squeal. Paola gave us a picture of a plane that she had drawn and labeled "Avion, para greik y stefani" Vanesa had drawn a butterfly which she glued onto the avion picture.

We were proud to hear that Aracely can now say our names, and she talks and sings a lot. She has lost her baby giggle and it has been replaced by a huskier "huh huh huh!" which was very amusing. Our buddy Rocio came over for a visit as well. We felt so at home. After a long day of traveling, we were finally here with our girls.

The girls played checkers using bottlecaps for the pieces. We thought that their rules seemed a little sketchy. Aracely went into the kitchen and came back with a small green plastic basket of vegetables on her head. She put it on the table and started to peel some garlic. The girls came into our room and found some American Airlines snack mix that we had saved for them. Aracely was excited to try it. The girls sat on our laps and hugged us often, and it was clear that they were as happy to see us as we were to see them.

Vanesa helped Paulina cook dinner. We had beans and cream with rice for dinner, and Rocio stayed to eat with us. Yoselin, always the first to crash, disappeared off to bed, and Paola wasn't very far behind her. Yasmin didn't want to go to bed, but tomorrow was a school day, so at 10:30 we let the family go to bed and we retired to our room for the night. Craig said that he thought that Paulina looked like she might be expecting another baby. I wasn't so sure, but she had been bundled up in a fleece all night, so it was difficult to tell. But we wouldn't put it past them...Humberto always did like having his surprises!
Public Washing Basins, Antigua
Church, Antigua
Aracely greets us in Humberto's office
Steph, Paola, and Craig
Yoselin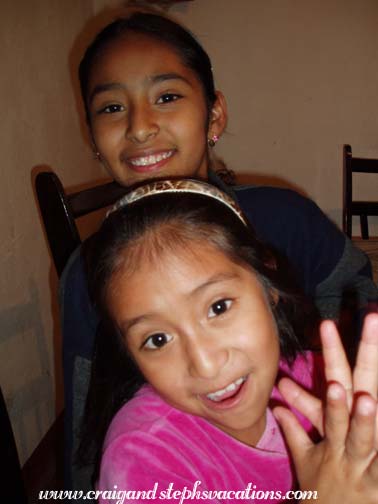 Vanesa and Yasmin