Yoselin burst through the door at 6:45 am and came into our room for her morning ritual. It is always so nice to be woken up by such an adorable, sweet, loving child. Soon we were joined by Paola and Aracely, and finally Yasmin and Terry. It was crazy as everyone (including the dog) piled onto the bed. The girls had brought the goodie bags that we had given them last night, and they wrote and drew in their notebooks and strung beads while we all spent a lazy Saturday morning enjoying each other's company. The girls broke out my camera, and as usual were fascinated by the hole in the ceiling which was awaiting a light fixture. They photographed it again and again

Yasmin has school for a couple of hours on every other Saturday, and today was one of those days, so she soon had to leave. She was a good sport about it, though. We headed to the dining table for a breakfast of Corn Flakes and bananas, pancakes, and apple juice. A relative stopped by with his small infant son, who was absolutely adorable. The girls' little cousin Neli came out to see us as well. The girls played outside and then Aracely and Paola helped me to make the bed.

We herded the kids out of our room so that we could take a shower and get ready for the day. We stopped into Humberto's office to say hello and then headed out to the market. On the walk there, we ran into Yasmin as she was on her way home from school, and she joined us for the market mission. The girls' grandfather, Señor Chumil, saw us from a distance, and came running to greet us. We signaled to him not to hurry, but he insisted and came over to say hello and shake our hands.

We continued on down the road, and stopped in to a store to purchase a gift and card for the wedding. We learned that greeting cards are not customary in Guatemala, so Paulina wasn't even sure where we could get one. But it turned out that the store where she wanted to buy a gift also had a small selection of cards. After making our purchases, we continued on toward the market. The younger girls climb every step and curb they come across, jumping across small expanses and jumping down off of high places. We held hands with them and had to separate as each girl would scurry around the far side of a pole. As usual, the girls lingered outside of the pet store looking at hamsters and a tank containing a few random fish.

When we arrived at the market, we passed through the open-air stalls and went to the indoor area where fish and crabs are sold. Paulina bought some perch from a vendor who weighed them out on a hand scale. We also bought some fresh strawberries, tomatoes, and cucumbers.

Exiting the rear of the market, we stopped at a clothing stall to buy Aracely a new pair of jeans. Paulina helped her to try them on, but Aracely was tired and cranky. The older girls enjoyed browsing around in the store, and eagerly picked out outfits that they liked to show one another.

A walk to the market always leaves us thirsty, and Paulina usually buys something to quench the girls' thirst. Today she offered to buy us all granizadas. This was as much a treat for us as it was for the kids, and we found ourselves strangely child-like, thanking "mommy" (who is actually younger than either of us) for buying us a special treat. The vendor took a cylinder of ice out of a cooler and placed it onto a metal grinder. The ice rotated and a sharp blade cut off shavings which the vendor packed into small styrofoam cups. He then poured red and orange syrup on top, and topped it off with some fruit. They were delicious and refreshing.

Paulina hired a tuk-tuk to take us home, as Aracely was a bit tired and cranky. There were nine of us packed into the tuk-tuk altogether, including the driver. This surely must be some kind of record! Humberto laughed as we pulled up in front of his office and all piled out like a bunch of clowns.

We played with the girls while Paulina cleaned the fish in the outdoor sink. Then we visited Humberto in his office to chat for a few minutes. Before we knew it, we were called to lunch - perch, salad, and rice. As usual, there were fresh tortillas, which one of the girls had purchased from the neighborhood tortilleria. I am normally very picky when it comes to fish, and dislike dealing with fish bones, etc. But for some reason this didn't bother me this time.The fish was delicious!! It turned out to be one of my favorite meals Paulina had ever prepared. She is a wonderful cook, and we love everything that she makes.

We played with the girls some more and then headed back to Humberto's office. Rocio stopped in to visit us there. Aracely took a nap while the rest of us got ready for the wedding. She was still asleep when it was time to leave. We took two tuk-tuks to the municipal building near the church and market (Humberto and a sleeping Aracely rode with us, while Paulina, Rocio, Yasmin, Yoselin, Paola, and Vanesa went in the second). Our tuk-tuk came mighty close to being hit by a car, but luckily our driver avoided it.

We were the first guests to arrive at the municipal building, and we waited outside until we saw someone else show up. Vanesa produced the deck of Galapagos playing cards from her pocket, and we sat on a cement wall while the girls played cards. When other people started to show up, we entered the building and went upstairs. Domestic violence must be a problem in the area, as there were all sorts of posters in Spanish warning women of what to do in case of domestic violence.

Soon the bride and groom, Vilma and Carlos, arrived. We were introduced to Vilma, who looked very nice in a white wedding gown. It was great to see Carlos again. We also saw Paulina's sister Olga and her daughter Pamela, whom we had also met at Aracely's baptism, and Paulina's father Señor Chumil.

Guests sat in plastic chairs and the bride and groom sat in front of the officiant and secretary. The civil ceremony lasted around 30 minutes. Relatives signed a book as witnesses at the conclusion. Then we all headed across the street to a municipal hall for the reception. The hall was decorated with white balloons and wedding decorations in swan and heart motifs. We sat at a table and watched three women in silver lamais tops dance enthusiastically and play tambourines. There were three gorgeous wedding cakes (which it turned out had been baked by the bride herself!) on a side table. Soon Carlos entered the hall with his father, and Vilma entered flanked by her parents. The bride and groom went up to the front of the hall and stood in front of the preacher (a friend of Vilma's family). The preacher gave a speech and then draped the couple in a red scarf and poured rice on the floor. He filled their goblets with wine.

Once the religious ceremony was over, all of the guests lined up to congratulate the newlyweds and present their gifts. We were happy to have a chance to speak to both Carlos and Vilma and wish them well. There was going to be dinner at the reception, but we weren't sure of the timing, and the girls were getting tired, so we took our leave. Humberto hailed two tuk-tuks and we rode home in one of them with Humberto and Yasmin.

As a surprise, Humberto had ordered two mushroom pizzas, which were delivered to the house. They came with little baggies filled with ketchup, as Guatemalans enjoy spreading condiments such as mayo and ketchup on top of their slices of pizza. Pizza is a real treat for the girls, and they enjoyed it immensely. Two large pizzas for ten people - clearly Guatemalans aren't used to American appetites! Craig and I laughed about this. We had fresh strawberries for dessert, and then played checkers and cards. We were a bit suspect about Humberto's rules for checkers, and we jokingly accused him of making them up. We all enjoyed each other's company, and had a good time chatting. At 11 o'clock, we all went to our respective rooms. I wrote in the journal until midnight, and then went to sleep.
Wake-up call
Enjoying our granizadas outside Humberto's office
Carlos and Vilma's wedding
Carlos and Vilma's reception
Receiving line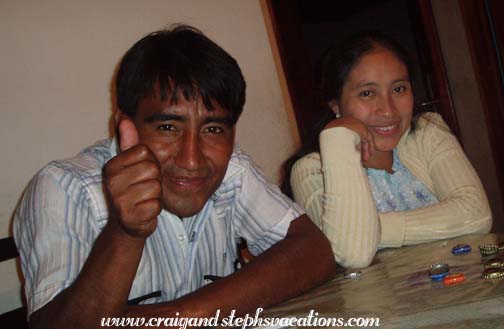 Humberto and Paulina