Today was a lazier day for the family, since there was no school. We got up around 8 o'clock and had some tostada (packaged pre-toasted bread) for breakfast, with butter and Ana Belly strawberry jelly (in traditional jelly jars which later double as drinking glasses). I took a shower and then came outside to play with the girls. While I was in the shower Craig walked Eddy back and forth, back and forth down the hallway in front of our room. We wouldn't be surprised if he's walking by himself very soon. He never tires of it. The girls were being silly, climbing all over us, chasing each other around, pantsing one another, etc. They did our hair and pretended to give us manicures and do our makeup. They would hang off of us upside-down. They would collapse on the floor and take a breather, only to get up again with even more energy! Their giggles and shrieks of delight echoed down the tiled hallway.

After a while we decided it should be time for a more low-key activity, since my stomach wasn't really in the mood for much more rough-housing. We sent the girls into the dining room and then presented them with their remaining gifts: a super ball with a plastic frog embedded in the plastic, a Spirograph, and an Uno game. "Mio? Mio!" they all proclaimed. "No," I corrected them. "Para todos." For everyone. Yasmin was particularly excited about the Uno cards and called out "Poker! Poker!" as she impatiently opened the package with unbridled avarice. Craig and I taught Vanesa, Yasmin, and Yoselin how to play Uno. They caught on fast. Since the game is based on colors and numbers, it was easy to teach even in our broken Spanish. Meanwhile Paola and Aracely played with the spirograph. When Paola decided she wanted to try Uno, we all taught her how to play as well. We played game after game.

Soon it was time for lunch. We had delicious chicken in a tomato sauce with tortillas. Humberto had called plumbers to hook up the water heater in our room, and when they arrived, they had to shut down all of the water for the entire house. This caught us by surprise and Craig never had a chance to shower before the water was disconnected.

Yoselin and Craig played table hockey with one of Eddy's blocks (the circular one) acting as a hockey puck. They both cheated equally, so it was all fair. We taught Paulina and Rocio how to play Uno as well, and we just kept playing over and over again, rotating out players as people got tired. There was lots of good-natured taunting as people reversed direction of play, skipped one another, or made each other draw extra cards ("Toma dos!" they would shout if someone needed to draw two cards). It was cute to watch their strategy as well. Vanesa had a "tell" – she would always separate her wild cards from the others in her hand and would lay them face-down on the table. She seemed to particularly relish being able to stick Craig with a penalty card.

Humberto brought me Gatorade twice today, which was very sweet of him. My stomach still wasn't back to normal, and I began to worry about the 3 hour car ride followed by flights which I would need to endure to get home tomorrow. I just hoped it all cleared up before then! We realized that unlike all of the other days so far, it hadn't rained today at all.

The plumbers finished the work on the water heater and turned the water back on. As the plumbers were leaving, Craig took the opportunity to test-drive it with a nice, hot shower. We suspected that once we were gone, the shower in our room would become a popular alternative for the girls.

We had quickly and easily slipped into the rhythm of the days here. Just about the time we would start to feel a tiny bit hungry, it was time for afternoon tea, a tradition that we particularly enjoy. Today instead of sending the girls to the bakery, Paulina served some of the pan tostada which was left over from breakfast. Humberto came home after a busy day of tours. The girls showed him the gifts that we had given them today. They called the super ball "ping pong" and Yasmin sang a little song about it. We rolled it back and forth across the table to Aracely.

We had savory chicken soup and fresh rolls topped with garlic and butter for dinner. We chatted with Humberto about our flight home. We totally expected to be taking a shuttle to the airport tomorrow morning, but Humberto surprised us and said that they would all be going with us again! He said that the zoo is literally right next door to the airport, and we could all go there together before our flight. This was incredible news. Usually the ride to the airport is a long 3+ hours, with Craig and I each sad that we have to leave and won't be able to return as soon as we'd like. But this arrangement would be much more enjoyable. Yoselin became quiet and sad during dinner, I think because she realized we would be leaving tomorrow. Craig held her on his lap and she fell asleep there. We then brought her to her bed.

Paola was using a newspaper for a school project. Yasmin covered a page with her hand, trying to keep us from seeing it, and we thought she was playing a game. It turned out to be an ad of a woman in lingerie, and Yasmin had not thought it was appropriate in mixed company. She didn't let Craig live it down when he convinced her to let him see it. We had a lot of laughs. Yasmin copied down phone numbers from the classifieds in her notebook, and they turned out to be plastic surgeons. When asked if she was planning to get plastic surgery, she came over to me and jiggled my flabby upper arm. "Thanks a lot!" I told her, laughing. That girl is such a wise guy!

As we sat at the table there was a sound like an explosion. "Don't worry; it's only the revolution," said Humberto with a smile. We know where Yasmin gets it from! It turned out to be an avocado falling on the corregated metal roof of the house. I couldn't believe how loud it had been.

Humberto suggested that we all get some sleep since it would be an early morning. As we headed out the door of the main house, Yasmin handed us another gift in the same gift box she had recycled twice before. Once again she insisted that we open it when we got to our room. We said our goodnights and headed across the courtyard. We opened Yasmin's gift box, which this time contained foam rubber, yarn, a keychain, and a couple of coins. We started to gather our things together and I wrote in the journal before going to sleep.
Yoselin and Vanesa playing Uno
Paola and Vanesa playing Uno
Eddy and his two teeth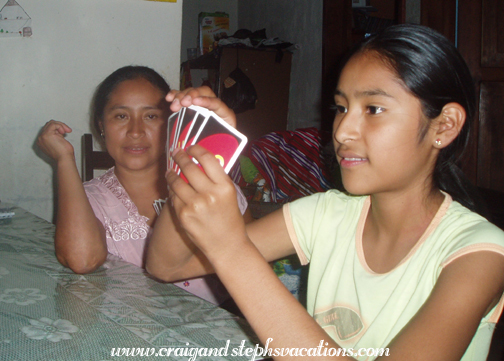 Paulina and Vanesa
Craig and Yoselin