We woke up at three o'clock a.m., took showers, warmed up the frosty car, made coffee, and were on the road to the airport by 4:15. We checked in at an American Airlines kiosk and went through security with no line whatsoever. We got McDonald's for breakfast (Craig had a sausage, egg, and cheese McMuffin and I got a sausage McGriddle). The woman at the counter was compulsively scratching her hands and complaining about her hangnail. How appetizing. I bought large water bottles from Cosi and they gave me a complimentary banana.

We waited at the gate until it was time to board the plane. We were pleased to find that we had three seats to ourselves, so we were able to spread out. It was an uneventful flight. When we landed in Miami we had to walk endlessly and take the train to the E gates. We were at E24, which was downstairs via an escalator. I got us pizzas from Pizza Hut and we ate while waiting for our 1:00 flight to board.

The flight was on time, and we arrived in Guatemala City at 2:45 p.m. We went straight through immigration and customs without any waiting. Alejandro, a friend and colleague of Humberto, picked us up. He would be driving us the whole way to Panajachel in his comfortable van, so we wouldn't need to stop in Antigua to wait for the usual 4 p.m. shuttle. We got good views of the 18th century aqueducts and the back of the zoo as we exited the airport and drove through Guatemala City. We fondly recalled the last time we saw the family, when they had ridden to the airport with us and we had all enjoyed some time together at the zoo prior to our flight.

The van ride was comfortable and enjoyable. Alejandro stopped at a roadside convenience store partway to Panajachel so that we could use the restrooms, and then continued on towards Lake Atitlan. We saw some turkeys on the side of the road during the drive. We had a scare in Solola when a small dog ran at the car, but somehow Alejandro avoided hitting it, and no harm was done. We passed by the new Pollo Campero fast food chicken restaurant in Solola. The kids love Pollo Campero, and we had eaten at a Guatemala City franchise with them on a previous trip.

We arrived in Pana shortly after 6 o'clock. Alejandro had phoned ahead to Humberto, who was now holding Eddy and waiting for us in front of his office. We said hello to Eddy, who had grown so much in the past few months. He had not ever had his hair cut, and he had gorgeous black locks which hung adorably into his eyes. As he smiled he flashed us a whole mouth full of teeth. When we saw him last July he only had two. Yasmin appeared, running down the alley towards us. She hugged us and then Aracely appeared. "Craig!!" she squealed as she gave Craig a big hug. "Craig!!" she squealed again as I enveloped her in my arms. She was immediately embarrassed at her faux pas, and her sisters would not let her live it down. Yoselin appeared and she immediately went to dig into the bag that contained their gifts. The Jenga game would no longer be a surprise. "Careful, careful!" she said unprompted in English, a mantra she had heard us repeat in the past when engaging in horseplay.

We walked down the alley and entered our room, where Paulina greeted us. Since our last visit, the walls have been painted a warm terra cotta color. Wooden baseboards had been installed, and there was now a shower curtain in the bathroom. Nice satin curtains hung in the windows. There was an area rug on the floor. They had really done a nice job with these guest rooms.

Humberto set Eddy down and we got our first glimpse of him toddling around on his own, a red light on his sneaker flashing with every step. The kids' cousin Andrik came in to see what was going on. Aracely was wearing a little red baseball cap and she put it on my head. She immediately took a peek inside my pocketbook and found a box of mints. "Mentas!!" she and Yoselin exclaimed. I gave one to each of the kids, and they were quite happy.

Vanesa and Rocio arrived, soon followed by Paola. The girls immediately took charge of my camera, and were taking photos and videos in the room. We sat in the room and chatted for a while, and then headed across the courtyard to the house. The walls had been painted the same nice terra cotta color as the guest rooms. Aracely cupped her hand to my ear and whispered, "Cuando regalos?" - when are the presents? She was too cute - while her older sisters were more subtle, she couldn't hold it in - she had to come right out and ask, but quietly so that nobody else could hear her.

The girls showed off their new refrigerator. We enjoyed bread and tea, and played dominoes. Paola came over and put her arm around me, and coached me in the game. She took some pictures. The girls pointed out the photos on the wall from Aracely's baptism, and asked if I had brought the same dress for Eddy's.

I was eager to give them their gifts, since Aracely had asked and was clearly so excited. We decided not to bring Jenga out tonight - that would be better later on, when we had time to play. So we gave them their individual gifts: a pocketbook filled with notebook, pens, pencils, erasers, wet naps, and a pack of tissues.

Eddy was taking a nap at this time, so we would need to wait until later to give him his gifts. Aracely asked Paulina something that we couldn't quite hear, and Paulina tried to put it off until tomorrow. Aracely didn't like this answer and the two of them disappeared for a moment. Then Aracely appeared from the kitchen, riding a little bike with training wheels. She was obviously quite proud of herself for learning to ride and wanted to show her godparents. She is becoming such a big girl. She rode it through the house and out the front door.

We followed her out, and there was a mishap. As one of the girls tried to hand me the camera, I didn't have ahold of it yet when she let go, and it fell on the ground. This wasn't the first time this had happened to the camera, and I wasn't too worried. I checked it out and all seemed well, until I tried to use the flash. It just refused to work. It would be fine in the sunlight, but indoors and at night, I was out of luck.

This was, of course, the first time we had forgotten to bring our backup camera. We would have to find some kind of replacement. It was only the first night of the trip, and we certainly needed a camera for Eddy's baptism. There was a flyer from an electronics store in the newspaper that the kids had been looking at, and we checked out a few digital cameras. The flyer advertised low monthly payments for high ticket items. Humberto commented that this was a new phenomenon in this area, and he worried that people could easily get into debt. The electronics store was in Solola, a little far and requiring getting a ride. Humberto told us that there were a couple of camera stores here in Pana, and suggested that we try them tomorrow.

But in the meanwhile, we were suddenly unable to take decent pictures tonight. I was worried about what kind of cameras would be available, if we would need to get batteries that needed charging and therefore wouldn't be immediately usable, etc. Taking pictures is something we share with the girls. And this would be our godson's christening...we had to have a camera with working flash for the church.

Vanesa came into the dining room wearing a Scream mask. That elicited a lot of laughs from her sisters. Paulina served us a nice, thick, creamy, home-made soup for dinner. It was delicious!

Eddy woke up from his nap and sat in his high chair. He was playing with the wooden stacking toy we had sent him for Christmas (he had only received it a week or two ago as the mail is so slow getting there). He has very good dexterity and was sticking the dowel upside down through the rings.Eddy talks a little bit, saying Mama, Papa, mio (mine), and luz (light). He would point to the light switch and say "Luz", and if you turned the light on for him he would get a great big smile.

A little while after dinner, everyone started to get a bit tired, and we went to bed at 10:30.
Yoselin and Eddy
Paulina and Eddy
Humberto and Aracely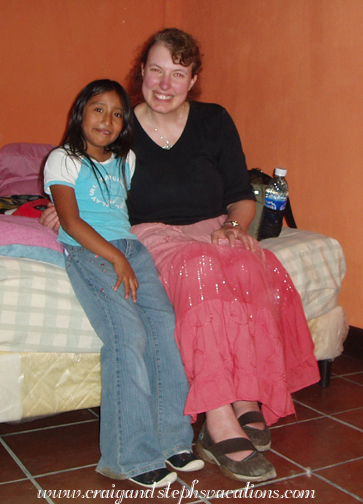 Yasmin and Steph
Craig and Rocio
Vanesa and Paola enjoying bread and tea