We woke up at 5:30 am, got dressed, gathered our cameras, and met Mukul in the lobby at 6:05 for our sunrise visit to the Taj. We took a golf cart to the entrance again. This time there was a very long queue. The "gents" were in one line, and the ladies were in another. Craig and Mukul got in before me, as a lot of the ladies in front of me had full pocketbooks which had to be thoroughly searched. By the time I got there they let me right in without even a search as I had nothing but my camera. Everyone seemed to be waiting on the viewing platform at the main gate, awaiting sunrise. It was very crowded there, and we took a quick photo of the Taj in the reflecting pool and then moved on to find a quieter, less populated spot.

We wandered around the grounds and Mukul found us a bench on the eastern side of the grounds from which we watched the sun rise over the non-functional mosque replica shortly before 7 o'clock. The Taj subtly changed colors with the rising sun, from white to pink to glowing gold. When the sun's rays actually hit it the structure, the inlaid jewels sparkled and shone. It looked truly mystical.

Mukul pointed out the metal rings sticking out from the Taj's dome. He explained that in 1971, the military was afraid that enemies would use the Taj as a landmark to navigate an attack on the nearby airforce base, so they camouflaged the monument by hanging netting from the rings. This reminded me of a rumor I had heard on multiple occasions. Did they actually try to "hide" the Taj following September 11? Mukul said that this was not true. Again, we were happy to have such a knowledgeable guide whose information we totally trusted. We could tell he was very well respected by the other guides that we met. We ran into a former student of his who couldn't say enough wonderful things about his former teacher. We felt very honored to be his clients.

Mukul can identify birds by their calls, and at one point he thought he heard a hornbill. The only time we had seen one was stuffed at the National Museum in Paro. He spotted it and we were able to see it silhouetted against the sky, which was a very cool experience. Being an expert at flora and fauna as well as history and culture, Mukul was an amazing guide and a constant fountain of information.

It was so serene here in the morning light; we could have stayed for hours. But our schedule dictated that we move on. At 7:45, we headed back to the hotel for breakfast. We stopped in the bar off the lobby to take a photo of a beautiful tapestry which depicted an aerial view of the Taj grounds. From this "map", we could easily see how the gardens are divided into quadrants, which are themselves divided into quadrants. We would be meeting Mukul and Raj at 10 am, for the beginning of a marathon day which would conclude with a midnight flight home. We wanted to indulge ourselves with one last shower, so we opted for yet another in-room dining experience. By 8:30, our breakfasts had arrived. Craig had ordered eggs benedict with mushrooms, and I had a fresh Belgian waffle served with cream, blueberry compote, and maple syrup. Afetr eating, Craig took a shower and I had a simultaneous bubble bath. Having a separate tub and shower was a luxury as well as a time saver. We got dressed, gathered all of our things, and headed down for checkout at 9:35.

Raj picked us and Mukul up out front and we drove to Kohinoor Jewelers in Agra. Mukul had described this as a place where we would see skilled embroidery and jewels. This was the understatement of the century. We pictured some kind of small place where women would be embroidering things. What we got was a large building that was essentially a huge vault. Mukul said that if the proprietor, Mr. Mathur, happened to be there today, we would be in for a treat. Mr. Mathur was indeed there, and after we passed through some heavy-duty security precautions, we entered the temperature and humidity-controlled building and we were introduced. Mukul caught our eye, indicating that we were in for a special experience.

We gazed around the lobby of the building, where extremely elaborate artworks of embroidery were showcased on the walls. This embroidery was three- dimensional, and some of the relief stuck out a good 3 or 5 inches. Mr. Mathur explained that this was not achieved through padding – it was layer upon layer of thread: cotton on the bottom, split silk on the top. This technique was pioneered by Padma Shri Shams, whose works we would see momentarily. The work in the lobby was done by his children and was for sale. Mr. Mathur also brought out some purses which were embroidered with gold thread and embellished with gems.

A small group of people from the Phillipines were also visiting, and they seemed to be business associates of Mr. Mathur. They had a boy with them who seemed to be around 12 years old. Once everyone was ready, Mr. Mathur took a handheld computer console and opened a vault door to his museum. He explained a bit about the late Shams, and how this room was a private museum and none of the works were for sale at any price. The room looked empty, but Mr. Mathur pressed a button on his control panel and a curtain lifted on one of the walls, revealing a beautifully lit piece of embroidery. It was huge and looked like a Persian rug. It was inset with precious and semi-precious stones (30,000 carats if I heard him correctly). Everyone marveled at the workmanship, and photos were allowed without a flash. At this point Craig looked around the room at the number of curtains on the surrounding walls. This was just the beginning of the show. And he was sure Mr. Mathur would save the best for last, so we were really in for a treat.

One piece at a time, the embroidery was illuminated to superb dramatic effect. There was a large square embroidered chess board with African wildlife tableaux around the perimeter. There was an extremely detailed scene of a leopard eating a peacock, with amazingly vibrant colored thread. There was an image of the Taj Mahal, and the center line seemed to follow you as you moved about the room. The 12-year-old boy was extremely excited, and seemed as interested as the adults were. There was an unbelievable iconic image of Jesus with a flock of sheep (though Shams wasn't Christian). The sheep were incredibly puffy; the depth had to be at least five inches.

The final piece was a life-like embroidery of a bejeweled vase of flowers which Shams embroidered for his wife's 40th birthday. Gems adorned the embroidered vase. Mr. Mathur's family (a long line of jewelers) had provided the gems for Shams' works, and it was obvious that Mr. Mather was quite proud of being associated with Shams' body of work. When you see the detail and sheer size of the embroidery pieces, it is not entirely surprising to learn that Shams became blind in the final decade of his life. The amount of strain put on his eyes by such precise work on such a grand scale must have been enormous. As we filed out of the museum, we were all speechless, but Mr. Mathur was just getting started.

Mr. Mathur handed us each an envelope containing postcard prints of Shams' work, as well as a brochure. He then locked up the climate controlled museum and we headed upstairs via escalator to the jewelry showroom. We were given complimentary sodas, and Mr. Mathur showed us an issue of National Geographic from April 1985 in which he was interviewed about a certain tumbled emerald Mughal necklace, and then produced the necklace itself. It was unbelievable. The emeralds were not cut; they were tumbled smooth, and they seemed to change in the light, to dance almost like an opal.

Next he pulled out a huge emerald ring surrounded by rows and rows of diamonds. He let one of the women from the Phillipines try this on, and along with it a dainty gold and emerald bracelet, and, the coup de grace, an enormous emerald pendant surrounded by diamonds. He asked me if I would like to try it on as well, to which I happily agreed. Craig got some photos of me wearing the Mughal "bling". I felt like a princess. I expected the necklace to weigh a lot – it looked very substantial, but it was actually very light and comfortable. Mr. Mathur treated us very well, especially since we were a couple of scruffy looking Americans in our tourist clothes.

Mr. Mathur asked what my favorite gem was, and I admitted that it was the sapphire. He brought me to see his sapphire collection. Everything was beautiful, and he took out various rings for me to try one. When one wasn't the right size, he said he could size it in an hour. When I said that we were headed straight to Fatehpur Sikri and then Delhi to fly home tonight, he said he'd have someone deliver it to us before our flight. Unreal! He had his coworkers go back into a vault and come out with cases full of more sapphire rings. He showed me one that was one-of-a-kind, with a teardrop-shaped bright blue sapphire, and of course it fit like a glove. Craig was really sweet and we bought it. I'm normally not a huge jewelry person, but this place was so special, and I knew that the ring would always remind me of this amazing trip. We thanked Mr. Mathur, who asked if he could show us some matching earrings. We all laughed and I said that I'd better not push my luck. Mr. Mathur made a joke that if a wife is a treasure, then the husband is the treasurer. We found this to be quite clever. He was a very charming man. We then met back up with Mukul, who once again had been very patient during our jewelry shopping.

It was almost 11:00, and we met Raj at the car and headed to Fatehpur Sikri. As we drove through Agra, Mukul directed our attention to various sites of interest. We passed a place which sold red clay pottery. Piled up in front of the shop were small shallow terra cotta bowls, the Indian equivalent of disposable cups. We passed a stand which sold the brightly colored glass bangle bracelets which adorn the arms of so many Indian women. Ginger roots were piled high on a wooden cart. Other roadside stalls sold sodas, snacks, and garlands of marigolds. Locals sat at outdoor tables eating street food. We passed a photography shop. Mukul explained that the photographer owns a Polaroid instant camera, and takes people's photos in front of backdrops. The more "exotic" the backdrop (by Indian standards) the higher the price. Apparently it is common for Indians of modest means to get a photo of them in front of a Statue of Liberty backdrop (the most expensive) and lead people to believe they had been to America. If we hadn't been on such a tight time schedule, I would love to get a photo of ourselves in front of a Taj Mahal backdrop (the cheapest). How funny would that be? When we went to Graceland, they took a photo of us in front of a backdrop of the mansion rather than the real thing, so what's the difference? We saw a very interesting vehicle which had been patched together out of an old water pump, discarded airplane tires, wood planks, and springs. The people of this area are very ingenious, and necessity is truly the mother of invention.

We arrived at Fahtehpur Sikri at around noon. Once again, Mukul's timing was impeccable. As we pulled into the parking lot, a bus was waiting to take visitors up the hill to the city. Akbar had visited the town of Sikri (20 miles outside of Agra) to visit Shaikh Salim Chisti, who prophesied that Akbar would have three sons. Akbar was so delighted by this prediction, that he decided that this would be the capital of the Mughal empire. The city was designed to replicate local wooden architecture in sandstone. (We would be impressed by this, as it meant that there were some very delicately-designed structures, some of which were five stories tall!) Fatehpur Sikri was occupied for only 14 years (1571 - 1585), after which the capital was moved to Lahore (in modern-day Pakistan). Mukul taught us that suffixes on place names indicates the religious origin of a place: -bad indicates Islamic origin, while -pur indicates Hindu.

Although there were other tourists here (including a field trip of uniformed schoolchildren), if you waited for a couple of minutes in any location you could get a photo that looked as if you were the only person there. Mukul recounted stories of visiting this monumnet during a field trip in his own childhood. We went into the Diwan-i-Khas (Hall of Private Audience) that had an elaborately carved column as a hub, and above our heads there were a series of catwalks that converged at the hub. Mukul explained that Akbar was very progressive, declaring a secular state and allowing religious freedom. He even repealed the jizya, a tax levied on non-Muslims. The hub is the symbol of many religions coming together. Akbar would sit atop the hub and representatives of other religions would sit atop the catwalk "spokes". They would discuss religious issues. If Akbar liked an idea that he heard, he might even incorporate it into his personal religious views.

We left the Diwan-i-Khas and explored more of the complex. We saw carvings of animals, previously forbidden under strict Muslim rules. But Akbar's progressive views allowed the expression of art which does not conform to traditional Islamic law. However, these carvings did not survive unmolested. Akbar's great-grandson Aurangzeb was much less tolerant, and ordered for the heads to be chiseled off of the animal carvings. Aurangzeb also re-instituted the jizya tax, declaring a strict Muslim state.

We visited the treasury building which had little "safety deposit boxes" in the stones which were believed to hold the gold and silver of the empire. We saw the "greenhouse" which had a giant platform bed and was originally surrounded with plants and cool mists for the summer, and insulated with rugs in the winter. We saw the queen's private chambers including an indoor pool. There was a life-sized Parcheesi board in the courtyard, where courtesans would act as the game pieces. There were chambers of public and private audience. Small channels running through the sloped patio acted as aqueducts; gravity drew the rainwater to an area where it all collected.

We sat in the shade looking over the gorgeous architecture and reflecting pools as Mukul recounted a very entertaining story of Akbar's court. Akbar's prime minister, Birbal, was a Hindu. Though Akbar was religiously tolerant, not all of the members of his court shared his views. His Muslim barber and physician resented Birbal's position, and devised a plan to get rid of him permanently. Birbal was successful as an ambassador from Akbar's court, and they convinced Akbar that Birbal should be sent to heaven as an envoy, to check on the well-being of Akbar's deceased parents. Birbal learned of the plan and decided to play it to his own advantage. He was to be buried alive, and asked if it could be done on a particular day. He had calculated that this day would have a new moon. Before the day of his burial alive, he secretly dug an underground tunnel from the site of his grave to his house. He was buried alive on the day of the new moon, and secretly followed the tunnel back to his house. He remained hidden inside of his house until several days later. He claimed to have returned from heaven. Akbar was eager to hear the fate of his parents. Birbal told him that he had seen the parents. Akbar's mother looked great and was in perfect health. However, Akbar's father was feeling weak, and his hair was very shaggy. He had asked Birbal to request that Akbar send a physician and barber to take care of him, so the treacherous barber and physician's plan backfired, and they were subsequently buried alive. We loved this story.

Mukul recounted another Birbal tale. Birbal was sent as part of a delegation to Iran. The Iranian shah asked him what he thought of Iran's empire: was it better than that of the Mughals? This was a precarious situation; Birbal would either offend his Iranian hosts, or he would dishonor his own empire. He thought quickly, and said that he thought of the Iranian empire as a full moon, while he thought of the Mughal empire as the new moon. This satisfied the Shah, because surely a full moon was much more impressive than the new moon. When Birbal returned home and had to explain his answer to Akbar, he said that what he had really meant was that the Iranian empire was at its peak, with no choice but to wane, like the full moon. But, like the new moon, the Mughal empire's greatest hour was yet to come. Birbal stories are still popular today, and many are collected on the India Parenting Website.

Next we went to the on-site Jama Masjid mosque, and mausoleum of Sufi saint Shaikh Salim Chisti (the holy man who blessed Akbar and predicted that he would have three sons). Mukul left us for a moment while he inquired about the timing of the bus. Meanwhile, kids tried to sell us postcards and souvenirs. One boy sent them away and led us to the white marble mosque. Unlike the dzongs and monasteries of Bhutan, in a mosque you must cover your head. Our hats were fine for this purpose. People without covered heads or sufficiently modest clothing were covered with a cap and/or a makeshift sarong of fabric. We were glad that we were wearing appropriate clothing, as we wanted to be as respectful as possible. While shorts and T-shirts may be appropriate in the United States, many other cultures find it inappropriate, especially if you plan to go into governmental or religious buildings.

We removed our shoes and entered the mausoleum which had some beautiful carved marble screens. People tie threads of yellow or red onto the screen to make a wish. Once their wish is granted, they return to untie the string (how they know which is theirs is anyone's guess). Mukul came to get us, and told us to hurry back so that we could catch the bus down to the parking lot.

The bus was about to drive away but it waited for us. Mukul wasn't with us but miraculously showed up next to me before the bus started to roll. He did this kind of thing often, and Craig and I joked that maybe he had a time turner a la Harry Potter. The bus dropped us at the parking lot. We jumped into the car and a few minutes later dropped off Mukul, who would be catching a ride back to Agra. We said a too-hurried goodbye. Though we had only known Mukul for just over 24 hours (all of this was just in the last 24 hours?!!) we had become friends. We wanted to spend more time with him; to hear more about the Mughals! We'd just have to come back to India for a more thorough trip, and hire Mukul as our guide!! I looked for a business card to give Mukul with our contact information, but realized that I had given them all away to the mob of children in Mongar. I took his card and wrote down our info for him, and we promised to keep in touch.

It was now 1:30 pm. Raj was a lot more talkative on the ride back. As a driver, he had deferred to the guide when he was present, but now that we were alone with him he chatted and joked. At first the roads were rather small, and we saw a large troop of monkeys on the side of the road. We soon reached the "4 lane highway". It was a divided highway with two lanes theoretically going in each direction with a median in between. However, we soon found that people might be going either direction in any lane. There were gaps in the median that could be crossed. Beep your horn, swerve, and pass are the rules of the road here. The highway was shared by all manner of conveyance: car, Tata truck, bus, bicycle (which can hold up to a family of 5, sometimes the bicyclist pedaled, other times he would hold onto a passing truck), motorcycle (also can hold a family of 5, including 3 sleeping children!), motorized rickshaws, rickshaws, carts being drawn by water buffaloes, horses, bulls, or camels, the list goes on and on. Perhaps the funniest were the camels. You would see a vehicle from behind that you would swear was an 18 wheeler, but when you got close you would see that it was an enormous cart being pulled by a huge camel. We would giggle when we saw them and call them "trucks with feet". Raj got a kick out of our amusement, and would point them out when he saw them.

The further we got from Agra, the more pollution there was. Agra's air is not clean, but they do try to limit the pollution which is damaging to the Taj (for instance, no brick kilns are allowed within so many km of the city etc). But as we got closer to Delhi there were more kilns, smokestacks belching out thick black smoke, etc. At one point we saw a traffic accident. It didn't seem to be bad in terms of injuries, but a Tata truck had wedged a bus into the guard rail, and we wondered how long it would take them to get the bus out. In the meanwhile, all traffic just beeped and went around, appropriating the other two lanes for its use. We passed a brand new sparkling white temple on the site of the birthplace of Lord Krishna. We saw monkeys on the side of the road. Every time you focused on one thing, it seemed you were missing something else. Total sensory overload.

When we were about 60 km from Delhi, we stopped at a tourist rest stop for a while. We had only had a few granola bars and M&M's for lunch, so we were quite hungry. We bought a can of sour cream and onion Pringles and two Fantas for $7. Yikes. But it was worth it. We wandered around some of the little shops and bought some small Indian souvenirs (so far all we had bought in India was a marble lamp and a sapphire ring, so it would be good to get some cheaper souvenirs as well to give to friends and family). We bought an Indian doll for Craig's grandmother's doll collection, some small Indian doll keychains for the girls in Guatemala, and a small wooden carving of Ganesh (the Hindu elephant god). We used the rest room where a family (mom, dad, and baby) were working as attendants. The woman turned the sink on and off for me and gave me a hand towel. The restrooms were very clean and we gave them a tip. After a nice stop, Raj was ready and we hit the road once again. It was now 4:30, and we still had a 60 km drive, and dinner before our red-eye flight home.

At one point during the ride (just after we had passed an immense statue holding a trident), 2 of the 4 highway lanes were shut down, and we had to cross over to the other side of the highway. Since it went from 4 lanes to 2, we were stuck in traffic here and got to observe our surroundings. Raj explained the situation: farmers from the rural areas had land gripes with the government, and were marching on Delhi for a peaceful protest. They were camping on the highway. We passed thousands of people in makeshift camps on the highway, sitting down eating together, making music, and going about the routines of daily life. People were using water from tanker trucks to fill water bottles, and to bathe with soap. Laundry was spread out to dry on the highway median. There were electrical generators powering fluorescent lights and loudspeakers. Everyone looked very happy and peaceful. It was very inspirational to see. Police with large nightsticks looked on without bothering anyone. People were taking naps under trucks. A woman was using a small hand mirror and applying make-up to her face. We joked with Raj that if we were staying an extra night in Delhi we could camp with them – it looked fun and would be cheaper than a hotel in the city.

We were snapping photos out the window at anything interesting we could see. At one point there was a small hatch-back car in front of us, jam packed with people. In the way back were a woman and a little girl. Within minutes the little girl was sound asleep although it looked like a pretty uncomfortable position. We pointed her out and Raj laughed saying "Little girl is sleeping in the boot!" After a while, we reached the end of the protest. The other side of the highway opened up once again and the traffic congestion eased up. We would reach a traffic light where a policeman would direct traffic from all directions. Bicycles drove at Tata trucks, rickshaws swerved around herds of cattle...it was chaos.

When we reached the city, we exited the highway and Raj paid a toll. I joked, "Does a camel have to pay a toll too?" Raj laughed, "Toll is for commercial vehicles only. Camel is not commercial vehicle. Private vehicle only." What a quote! It got dark and it was a little bit less interesting to look around, although we saw a lot of public transit buses packed with people who often stared at us.

At around 6:30 we arrived at the Oberoi for dinner. It was our farewell dinner and Peirce and Leslie was picking up the tab for the meal and drinks. We weren't sure where to go, so Craig showed our voucher to a woman at the reception desk and she pointed us at the ThreeSixty restaurant. We went in there and felt very underdressed. It was a sleek swanky restaurant/bar with a small sushi bar, brick pizza oven etc. We opted for total comfort food (tenderloin blue cheese burgers with fries and fresh relish) before our flight, along with a Caesar salad with grilled chicken. I got a glass of Indian white wine (Grover Blanc de Blanc) and Craig had a Cobra Beer. We were supposed to leave at 8 for the airport, and we thought we had plenty of time to order a light dessert. We each ordered some ice cream, and it wound up taking almost as long as the meal had taken to arrive. We were looking at our watches and did our final bathroom trips while waiting so that we could leave as soon as we finished. The Peirce and Leslie representative had arrived and told us that we needed to go. The ice cream finally arrived and we scarfed it down. Mine was a very gelato-like chocolate and Craig's was creamy strawberry.

It was 8:15 pm when we left, and our escort was nervous because of the time and the traffic, and said that American Airlines often overbooks and if we aren't there early enough we could be in trouble. This is the last thing we wanted to hear, and as we got stuck in traffic, we were nervous. We hoped we hadn't blown the timeline by having dessert. The flight wasn't until midnight, but we were surprised at how far from the airport the dinner hotel seemed to be. We kind of expected it to be nearby. We wound through the city, past the embassies surrounded by roundabouts, etc. We probably should have eaten somwhere that was closer to the airport. But Raj was a safe and efficient driver, and we made it in time.

We arrived at the airport by 9:10, said our goodbyes and thank yous to Raj, and then headed into the building. There was a very short check-in line and we made it with plenty of time. We talked to a couple who had gotten to the airport at 6 and hadn't been let in, and instead had to pay an entrance fee to some kind of transit lounge. So I guess you can't win…too early is also a problem. Although the check-in line was short, the process was painfully slow. We went through security and immigration and then sat at the gate.

It was really hot and we were flustered. I went to buy us some water. We had given all of our rupees as tips, and I tried to pay for the water with a $5. The guy asked if I had rupees or smaller dollars (the waters were $1 apiece). I said I thought Craig had smaller change and that I would go check. The guy was very low-key and told me to take the water and come back with the money. This was unheard of to me. How trusting! I got the money from Craig and brought it back to the friendly clerk. This cheered me up quite a bit.

There was an English-language Indian news channel on the TV. We were half-watching the sports segment when we heard "from thousands of miles away in Boston, Massachusetts…" The story was about US Ambassadors to India staying up late to watch World Series game 1, which the Red Sox had won. Wow, first we heard of it. We didn't even know they made the pennant race. We knew Craig's mom and grandmother would be going nuts at home, along with the rest of "Red Sox Nation". We can run but we can't hide from baseball hysteria...here was Red Sox hype halfway around the world.

Before boarding the plane, I went to the restroom. Though several stalls were open, an Indian woman stopped me, saying that they were Indian toilets and that I should wait for a western one. It didn't end up making a difference, as the western one had no seat so the net effect was the same. But I was a little annoyed; I would have used the Indian style toilet. She handed me a napkin after I washed my hands and asked for a tip. I said I had no money on me (which was the truth), and she told me to come back with some. Did this lady even work here? I doubt it – just trying to make some quick cash before a flight, maybe? Anyway, I passed on the tip.

The plane started to board at 11:30 pm, and we got in line. It took forever. Everyone had to be hand-searched and all of their carry-on baggage hand-checked with bomb swabs and metal detectors. All electronic devices had to be turned on, etc., etc. We had been standing for quite a while when we were finally allowed to board the plane. This would be a long one – 15 hours to Chicago. Luckily the plane was a 2-5-2 configuration and we had 2 to ourselves. We settled in and the plane was ready for takeoff but one woman refused to take her seat. She was trying to get a better seat, etc and although they were talking directly to her over the PA telling her the plane would not move until she sat down, she didn't listen. The passengers were quite patient. If this had happened in Boston, people would have been yelling and possibly throwing things. She finally sat down and we took off at around 1 am, which was 45 minutes late.


Sunrise over replica mosque
Taj Mahal at sunrise
Inlaid gems sparkle in early morning sunlight, Taj Mahal
Taj gate
Proportional Arabic lettering on Taj Gate
Bejeweled embroidery by Padma Shri Shams
3D embroidery by Padma Shri Shams
3D embroidery by Padma Shri Shams
Padma Shri Shams' birthday gift to his wife
Mumtaz Mahal and Shah Jahan
Mughal emerald necklace
Mughal bling
Diwan-i-Khas,Fatehpur Sikri
Fatehpur Sikri
Fatehpur Sikri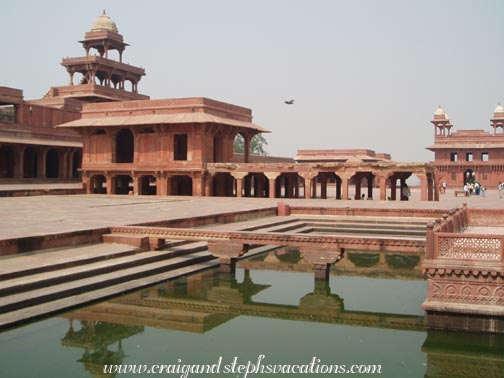 Fatehpur Sikri
Jama Masjid mosque, mausoleum of Sufi saint Shaikh Salim Chisti
"Camel is not commercial vehicle"
Nonviolent march on Delhi
Raj