Prologue


Jared has been my dear frind since high school. We attended two proms together, worked together at the same small amusement park, and spent countless hours hanging out, enjoying one another's company. Jared was a groomsman in our wedding 16 years ago, and he holds a very special place in our memories of our wedding day. When we learned that he would be marrying Dave, his wonderful partner of 9 years, over Labor Day weekend near their home in New Jersey, we wouldn't miss it for the world.

Jared asked me to do a reading at the wedding, and I was very honored. The reading was from Plato's Symposium, and explains the origin of love between between all combinations of genders. Jared and I studied Latin together in high school, and that is where he first learned of it. It is also prominently featured in one of Jared and Dave's favorite musicals, Hedwig and the Angry Inch, as a recurring song called "The Origin of Love."


Saturday 8/30/14
Pre-Wedding Cookout


On the day before the wedding, we woke up at 4:45 a.m. to catch our flight. Craig is not familiar with the NYC/NJ area, and since his multiple sclerosis diagnosis, he has not been comfortable driving long distances. Add to that the fact that we hear that long weekend traffic between Boston and NYC can be a nightmare, and we decided to fly into Newark. We would rent a car to get from our hotel to Jared and Dave's house for a backyard cookout this evening, and to the wedding venue the next evening.

We left the house at 6:30. When we arrived at Logan Airport, Central Parking was fairly empty, which we found unusual for a holiday weekend. For security, we randomly got to go throught the TSA Pre-Check lane, and we didn't have to take out our liquids or laptops, or remove shoes or belts. My sandals had metal on them and the woman said, "Give it a try, you can always take them off if the machine complains." Wow, this was definitely the kinder gentler TSA. The security line was short and we breezed through it.

We were flying United, and the gates were in a newly renovated portion of Terminal B. I got Craig a healthy breakfast of granola, yogurt, and fruit (and something considerably less healthy for myself), and we ate in while waiting at the gate. Our flight boarded at around 8:30. The flight attendants hung up Craig's suit in the closet at the front of the plane. Jared and Dave's present fit beautifully under my seat. We took off on time at 9:10. They served us a beverage and then they needed to collect it immediately because we were already landing. It was only 46 minutes of air time - now this was our kind of flight!.

After deplaning, we boarded the air rail which took us to Hertz to pick up the rental car. The agent was very nice and helpful. We got our car which ws a nice little dark green Chevy Cruz. We weren't sure how to handle tols, but she told us that New Jerset still accepts cash at the tolls (unlike the Tobin Bridge into Boston). So that made things easier! (You could use an EZ Pass transponder in the car, but there was a $5 service fee, so cash wasa better option).

It was hot (though the car only claimed 69 degrees) and while Craig was trying to figure out the AC, he accidentally turned on his seat heater. Yikes! We pulled out of the garage at 11:11 and drove straight to the Renaissance Meadowlands Hotel in Rutherford.

The hotel was currently under construction, so the main lobby was closed and the check-in desk was in a temporary location. Check-in time wasn't until 3 p.m., but the staff was extremely friendly and accommodating, and we were able to check in early. We went up to room #519. It ws right next to the elevator and not on the side of the building with the NYC view, but it was very comfortable and clean.

We got settled in and then went downstairs to CK's Steakhouse, the on-premises restaurant. Because of the construction, the restaurant was temporarily located in a function room / conference room, but it was fully functional and comfortable. Our server Renee was quite friendly. She brought out fresh home-made potato chips while we placed our orders. Craig got a Baja chicken sandwich with fries, and I had a Hawaiian fklatbread pizza. NFL Network was on the two flat-screen TV's and they were rebroadcasting the Pats vs. Giants preseason game from several nights ago in preparation for next weekend's season openers. The game took place at MetLife Stadium, which was just down the road from the hotel. In fact, we had passed right by it on our drive over! We enjoyed our low-key lunch, and the food was very good.

We went back to the room and continued watching the game for a while, and took a little nap. The cookout officially started at 5 o'clock, but Jared had said if we were in town earlier, we could just head on over. So we left the hotel at around quarter of 4. We had printed out Google Maps directions, but one of the roads takes an unmarked turn. We kept missing it, and looped around several times. We called Jared, and Dave gave us directions. We still made one wrong additional loop-around, but then finally arrived, shortly before 5 o'clock.

It was our fist time visiting their house, and it was very nice. It's an old house with lots of character: fancy dark woodwork, leaded glass fronted built-ins, etc. And of course they had decorated it very impeccably! Jared gave us the tour and then we went out to the backyard. We were greeted by Jared's sister Sarah (whom I hadn't seen in just about 20 years) and her lovely daughter Caitlyn. We met Dave's mother, who was very sweet and welcoming to us. We also met Dave's brother Mike, his wife Alison, and their adorable kids Erin and Connor, who were visiting from Virginia. Sylvia Pickles, Jared and Dave's Boston terrier, was very friendly and excited to meet us.

Craig had a beer, and Jared made me a delicious grape vodka drink. The backyard was very nice, and had strings of carnival lights draped above our heads. There was a piñata hanging in front of the garage for the kids. The weather was perfect; with a slightly cool breeze.

Jared's parents arrived and it was nice to see them after so many years. In addition to knowing them as parents of one of my dearest friends, Jared's dad was one of my favorite teachers during my senior year of high school. We chatted with them and with Sarah. Jared's brother Brendan arrived with his wife Robyn, and their youngest brother Ben, with his girlfriend Jennifer. The two of them have been living in Haiti, doing civil engineering and aid work, respectively.

The guys' friends started to arrive, and we met Kevin (who would be officiating at the wedding), his husband Joe, and their little dog Sebastian. They were exteremely friendly and fun to talk to. We met Harry, who would be doing the other reading during the ceremony. Jared's friend Jeremy arrived with his wife Jessica and adorable 9-month-old baby Saffron. Jared's friends Jen and Kimmie from college were also there, along with Jen's husband Wael.

The two dogs are obviously good friends and enjoyed chasing one another. Sebastian has no problem keeping up with Sylvia, even though he has significantly shorter legs. The kids enjoyed playing wit them and took Sylvia for a walk. The adults had a lot of fun chatting. There were lots of laughs, and everyone was very excited about tomorrow's events!

We had dinner: burgers and dogs on the grill plus a variety of yummy meatballs, chili, kielbasa, macaroni and cheese, etc. There was so much food that you couldn't even sample everything. It was all very delicious. After dinner they brought out a cake for Jared's mom, who was celebrating her birthday today. How perfect! We all sang to her and enjoyed the cake. The kids attacked the piñata with gusto, and everyone made Lord of the Flies and Children of the Corn jokes as they tore it limb from limb. Desserts circulated - there was so much delicious food!

We received a goodie bag containg two specialty sodas and a variety of candy. Jared and Dave also gave me a bottle of Anthony Road wine from the Finger Lakes as a thank you for doing the reading. We really enjoyed the company and getting to catch up with such dear friends. We could have stayed all night, but we wanted to give the guys a chance to rest up for their big day. So once most people had said their goodnights and headed out, we did the same. We headed back to the hotel at around 10:45 p.m. Jared gave us straightforward directions and it only took about 15 minutes.


Sunday 8/31/14
The Wedding Day


We didn't wake up until 10 o'clock. The wedding was in the evening, and we wanted to make sure that Craig was not too tired to enjoy himself, so We had a liesurely morning. We went downstairs for lunch at CK's Steak House just as it was opening. Renee was there, and was once again very friendly and hospitable. We had the house-made chips and we each had a Montanna [sic] steak sandwich with cheese, vidalia onions, and horseradish sauce on a baguette. It was served with fries. It was delicious. We chatted with Ahmed, from Morocco, who also worked in the restaurant. We talked about travel and how we really had wanted to visit Morocco but it hadn't worked out (long story). Everyone at the hotel was so friendly, and we were happy with our choice to stay there.

We went back to the room and I wrapped the wedding gift and filled out the card. I realized I had forgotten a Sharpie (I usually carry one in my pocketbook), so I borrowed one at the front desk. They were once again super accommodating. I used the in-room iron and ironing board to iron Craig's shirt.

Then it was time to get ready for the wedding. All of a sudden, a huge thunderstorm rolled in. We could see the dark clouds gathering outside the windows, and doon we could see lightning bolts and hear thunder. It started to pour. We hoped that it would blow through before the wedding!

Craig realized he had forgotten to bring shaving cream, but we had seen some of his brand for sale in the little shop next to the reception desk. I went down to buy some. They were once again super friendly and even offered me a complimentary shaving cream packet as an alternative to buying the small can for $3. After looking through their supplies, they seemed to be out. But I appreciated that they had offered it, to try to save me the money.

After our showers, we got dressed. We were supposed to be at the venue at 6:30, so we intended to leave at 5:45, just to be sure. Jared and Dave had given us straightforward directions, so we didn't anticipate any problems. The storm had passed but it was still very humid. We hit a little traffic at the tolls on the Garden State Parkway, but still managed to pull into the parking lot right as Sarah and Caitlyn did, at around 6:15.

The Oakeside Mansion is a beautiful 19th-century 23-room mansion. The ceremony was supposed to be outside in the garden, with Jared and Dave's dog Sylvia able to attend. It was no longer raiuning, but because everything was so wet, coupled with the fact that the property had lost several large tree limbs during the brief storm, they decided to move the ceremony indoors. This unfortunately meant that Sylvia had to stay at home.

There was a beautiful porch out front, and we were quickly ushered inside where the was air conditioning. The inside of the mansion was quite attractive, with dark woodwork, many architectural details, and interesting art hung on the walls. The family had started to gather. Flower girls Caitlyn and Erin were playing on a gorgeous grand piano. On top of the piano were a vase of flowers and photos of Jared and Dave with their families.

Jared and Dave emerged in handsome custom-tailored matching gray suits. Jared wore a robin's egg blue shirt, and Dave's was lavender. They had lavender boutineers and bow ties.

We chatted with the family and friends we had met the previous night. We also got to see several people who hadn't been able to make it to the party. Jared's friend Leslie from college arrived, as did Kysa and Jeremy from high school. Everyone was so excited! The guys gave wrist corsages to their mothers, and Jared pinned a boutineer onto his dad's lapel.

At 7 o'clock, we entered a little sun room for the ceremony. It was gorgeous - the kind of room where one might host a garden party. As I would be performing a reading, we were seated in the front row. There was standing room only in the back (remember that this was relocated from outside), but the ceremony was relatively short, so this wasn't a problem.

Kevin stood at the front of the room, and "First Day of My Life" by Bright Eyes was played while the wedding party entered. Connor walked down the aisle and handed a ring box to Kevin. Then Caitlyn and Erin walked down the aisle, holding beautiful lavender bouquets. Jared walked down the aisle, followed by his parents. Then Dave walked down the aisle with his mother and brother Mike.

Kevin greeted the guests and opened the ceremony with a reading from Goodridge vs. The Department of Public Health, the landmark case from November 18, 2003 which granted same sex partners the right to marry in Massachusetts. (Mass. was the first state in the US to allow this - yeah! So proud to live here!)

This was followed by Harry's reading from Winnie the Pooh, where Piglet and Pooh dicuss how Piglet "wants to be sure of" Pooh, how they don't want to live without one another, and how "it's so much more friendly with two." It was lighthearted yet poignant.

Next was my reading from Plato's Symposium, familiar from high school Latin with Jared as well as its adaptation in the musical "Hedwig and the Angry Inch". I could not have thought of a more appropriate reading, and we felt honored to help celebrate two wonderful individuals who have found their other halves.


"Humans have never understood the power of Love, for if they had they would surely have built noble temples and altars and offered solemn sacrifices; but this is not done, and most certainly ought to be done, since Love is our best friend, our helper, and the healer of the ills which prevent us from being happy.

To understand the power of Love, we must understand that our original human nature was not like it is now, but different. Human beings each had two sets of arms, two sets of legs, and two faces looking in opposite directions. There were three sexes then: one comprised of two men called the children of the Sun, one made of two women called the children of the Earth, and a third made of a man and a woman, called the children of the Moon. Due to the power and might of these original humans, the Gods began to fear that their reign might be threatened. They sought for a way to end the humansí insolence without destroying them.

It was at this point that Zeus divided the humans in half. After the division the two parts of each desiring their other half, came together, and throwing their arms about one another, entwined in mutual embraces, longing to grow into one. So ancient is the desire of one another which is implanted in us, reuniting our original nature, making one of two, and healing the state of humankind.

Each of us when separated, having one side only, is but the indenture of a person, and we are always looking for our other half. Those whose original nature lies with the children of the Sun are men who are drawn to other men, those from the children of the Earth are women who love other women, and those from the children of the Moon are men and women drawn to one another. And when one of us meets our other half, we are lost in an amazement of love and friendship and intimacy, and would not be out of the otherís sight even for a moment. We pass our whole lives together, desiring that we should be melted into one, to spend our lives as one person instead of two, and so that after our death there will be one departed soul instead of two; this is the very expression of our ancient need. And the reason is that human nature was originally one and we were a whole, and the desire and pursuit of the whole is called Love."


Next, Jared and Dave read their vows. Connor brought the rings up, and Dave and Jared put them onto one another's fingers. Kevin pronounced them husband and husband, and they kissed as everyone broke into applause. It was a verfy nice ceremony, and it was obvious that Kevin was honored to have been asked to officiate at the wedding of two of his dear friends. Harry and I felt the same honor.

We went through the receiving line and then there was as cocktail hour. The open bar was set up out on the porch. Craig got cranberry juice and vodka and I had pineapple juice and vodka. We got some charcuterie (a term we only know thanks to Anthony Bourdain), cheese, and crackers, and then went to have a seat with Jared's parents as well as his uncle Ray and his partner Michael. Michael is a florist and provided all of the materials for Jared and Dave to make their table centerpieces.

Servers were passing around various appetizers including bacon wrapped dates, crab cakes, salmon, trout, clams, and roast beef on toast, and a host of other items. Everything was delicious. We wandered around the first floor of the mansion, chatting with various people. We then had our pictures taken with the grooms as part of the "Boston contingent."

At 8:30, we all headed out back via a garden path lit by paper bag lantents to the tent for the reception. THe tent was very nice with swagged fabric along the ceiling and strands of lights giving the place an enchanted look. We picked up our place card, which doubled as the guest book in a very clever way. Each place card was a little tag with our names on one side, with a loop of red ribbon on the end. There were Sharpies on the tables and you were supposed to write a message to the happy couple on the back, and they would use them to decorate their Christmas tree. What a creative idea!

We were seated at Table #1, which was sort of the equivalent of the head table, with Kysa and Jeremy, Harry, and three of Dave's college friends. The wedding favors were mason jars personalized with Jared and Dave's names on the lids, and filled with salt water taffy which color coordinated with the grooms' shirts. The centerpieces were glass vases with river rocks in the bottom. White tree branches were placed in the water, and there were electric candles hanging from them. They had done a very nice job on all of the details!

Jared and Dave enthusiastically made their grand entrance into the tent to "Barbra Streisand" by Duck Sauce. Fabulous! It was clear that a great party was about to begin. The grooms sat at our table, and we all began eating the salad course: Caesar salad with rolls. It was so hot that the room-temperature butter was near liquification. It was announced that the buffet was now open, and we headed up to get our food. There was quite a variety of food, and We filled our plated with penne pasta, eggplant stuffed with ricotta, ham, roast beef, roasted potatoes, chicken with mozzerella and fresh tomatoes, salmon, and green beans. It was all delicious (I thought the eggplant dish was phenomenal!)

Dave's brother Mike gave a very nice toast, talking about the importance of family to Jared and Dave, how much their nieces and nephews love them, etc. He was obviously very proud and happy for them. Then Jared and Dave said a few words, thanking everyone for coming, and saying how they could never have eloped because the presence of family and friends at their celebration so was so important to them. Dave gave emotional thanks to his mother, saying that they had chosen this wedding date for its significance to his family. They they invited us to have fun and enjoy the rest of the evening.

The grooms were called up for their first dance, to "The First Time EVer I Saw Your Face" performed by George Michael. Everyone was invited to join them on the dance floor, which we did. Then Jared and Dave cut the cake. It was a very bright and cheerful three-tiered square cake, colored with a blue gradient.

Now it was time for an '80's & '90's dance party! Everyone took to the dance floor for "Love Shack" by the B-52's. I took some video but then stopped to join the fun myself. The B-52's were a favorite back in high school, and Jared and I even met them after a concert once later in life. I joined Jared and Dave on the dance floor, and Kevin came dancing over to say hello. The song segued into Dee-Lite's "Groove Is In the Heart." Jared told me later that these were their only two "must-play" songs. When I was shocked that there was no must-play Madonna song, he explained that she was a must-play ARTIST. Phew, I was starting to wonder what had happened to him! I enjoyed dancing until I was so hot and sweaty that I needed to take a break.

The humidity was intense in the tent, and people were gathering around the circular fans in the corners. The waitstaff kept the tables stocked with pitchers of water, and they would deliver us drinks from the bar. Craig and I danced when they played another slow song. Then I joined Jeremy, Kysa, and Jared for such songs as "Don't You Forget About Me" and "Buffalo Stance." Toward the end of the night Madonna got her second play of the evening with "Like a Prayer." Even the bartender was dancing behind the counter!

As the night grew later, people started to say their goodbyes. Since we had rested earlier in the day, Craig was feeling good, and we were able to stay. I went back out on to the dancefloor and danced to "I Heard It Through the Grapevine" with Harry. Soon, everyone had left except for every person at Table #1. Jared was proud and said that Table #1 had represented.

They had planned something special for the last song of the night. Jared, Dave, and their friend Jason lip-synced and mimed along with "So Long, Farewell" from The Sound of Music. It was adorable, poignant, and sweet, with some comic relief thrown in as well. Table #1 lingered over saying their goodbyes. Everyone had had such a great time! By the time Craig and I left, only Jared, Dave, and Harry remained, and they were gathering the gifts, centerpieces, etc.

We left the mansion at 12:30, and were back in our hotel room before 1 o'clock. We broke open the bottle of wine we had received from the guys last night and drank a toast to them. We are so grateful to have been a part of their special day. We think that they make a wonderful couple, and we wish them a lifetime of happiness together.


Monday 9/1/14
Traveling Home


After having stayed up until 2:30 a.m. enjoying our wine and reliving the wedding, we slept until 9 a.m. We had ordered room service breakfast, and it arrived as scheduled at 9:30. We had scrambled eggs, sausage, home fries, toast, decaf coffee, and orange juice. It was very good and super convenient, but neither of us finished our portions, since our bellies were still somewhat full from all of last night's delicious food. But we wanted to have something before our flight home.

We took showers, packed up, and checked out on-time at 11 o'clock. We left the parking lot at 11:11 (temperature now 96 degrees, phew!), and were at the Newark airport by 11:30. We were very early for our 3:29 flight home, but at least we were there and could relax. I plugged in my netbook and typed in my notes from this amazing weekend.

Our flight was on-time. It was a brand new plane with those new thin seats. There was no closet for Craig to hang his suit, so we stuffed it in the overhead bin. There was not a single TV to be had on board, so much so that the flight attendants had to do the safety demonstration with physical props (seat belts, vests, etc.) How old school! Maybe that explained why one of them was acting so cranky, accusing innocent passengers of one infraction after another. The seats had nice legroom, but Craig found the shape of the lumbar support to be uncomfortable. If this is the future of air travel, we are not looking forward to it.

But, plane notwithstanding, there is nothing like getting home after a mere 46 minute flight time on a holiday Monday evening. We didn't hit any traffic and were home from the airport by around 5:30 p.m. Another successful trip!


Cookout at Jared and Dave's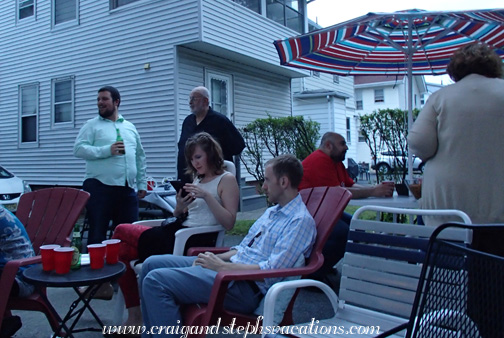 Cookout at Jared and Dave's




Erin and Caitlyn




The Mansion at Oakeside




Steph and Jared




Ben and Jared




Jared's parents




Craig and Steph




Kevin




Guests




Dave's mom walks him down the aisle




Harry reads from Winnie the Pooh




Steph reads from Plato's Symposium




Dave reads his vows




Connor brings up the ring box




First kiss as husband and husband!




Erin and Caitlyn




Craig at Table #1




Steph and Craig




Kysa and Jeremy




Dave and Jared's grand entrance (Barbra Streisand!)




Dave's brother Mike gives a toast




Dave and Jared give a toast