Friday, March 17, 2017 - Whiskey Class Soviet Submarine C-189, Dinner Show at Restaurant Katyusha
Today I got to live out my adolescent "Hunt for Red October" fantasy! We actually got to explore a real Soviet submarine!

We passed the C-189 yesterday when driving back to the hotel. It is an actual sub which is submerged in the water, and is now a private museum. Craig has been on a sub in Fall River when he was a kid, but I never have. And I love "Hunt for Red October", so it was the obvious choice for a way to spend our free day before heading home tomorrow!

But before I get ahead of myself, Craig woke up with a swollen lip again this morning. This has been something that has been happening for the past couple of days, but today it was even worse. His lip was painfully swollen, feeling like the skin was ripping apart. He is prone to angioedema, and this turned out to be a reaction to his MS medication. We had been treating it with Benadryl, and we were running out of tablets. He took one to get the immediate swelling down, and we decided that we would try to stop at a pharmacy today to replenish our stock.

We went down to breakfast, and found that today there was a woman playing the grand piano on the far end of the dining room, in front of the elaborate stained glass wall. We once again had made-to-order crepes. Craig had his with salmon caviar and sour cream, and I had mine with homemade caramel sauce. We enjoyed beef stroganoff, hunter's sausage, cheese danish, scrambled eggs, home fries, coffee, and juice.

We headed out to Nevsky Prospekt and visited a pharmacy. We were easily able to purchase some antihistamine tablets. We window shopped in a couple of souvenir shops. One had an animated carved wooden window display: an organ grinder powered a small ferris wheel. In each of the seats was a matryoshka doll.

It was cold and windy today, but we decided to walk the 4 km to the submarine. We made sure that we were dressed warmly. It was nice to walk because we have been driven to most destinations in this city. The canals, bridges, and one way streets have made it difficult to gauge the actual distance between sites. On foot, it became apparent that most of the major sights are pretty close to one another.

We passed the Hermitage, and crossed Dvortsoviy drawbridge. We saw a single "love lock" attached to this drawbridge, and, coincidentally enough, the date written on it corresponds to our 17th wedding anniversary! We called to mind the wedding-themed music box that we had bought yesterday, and it somehow seemed even more appropriate!

From the bridge, we could see Peter and Paul Fortress across the waters of the Neva. We could see the trail of an icebreaker ship in the river ice. We crossed over to Vasilievsky Island, taking a slight detour to admire the rostral columns on the Strelka once again. We could feel the cold wind whipping down the Neva from the Gulf of Finland, which we had visited yesterday.

Then we walked along the southern edge of Vasilievsky Island along the Bolshaya branch of the Neva. We could see St. Isaac's Cathedral across the Neva. We walked by Quay with Sphinxes, at University Embankment. Two 3500-year-old stone sphinxes were brought here from Egypt in 1832, now keeping watch over the Neva.

It was a blustery day, so not many people were out taking a leisurely stroll. But we had our hats, scarves, and gloves, and enjoyed the adventure. We were going to go on a Soviet sub! This gray cold weather seemed somehow appropriate. At noon, we actually heard the daily firing of the cannon at Peter and Paul Fortress.

With photo stops, it took us about 90 minutes to walk to the sub. We could see it in the water, and had to figure out how to get to it. We realized that we had to walk over a little gangway, past the (closed) customs' house, and down a jetty to the sub. There was no ticket office...just a gangway that said "Museum Submarine C-189." We climbed aboard and peeked down a bulkhead staircase. A face appeared below us. A man greeted us and motioned for us to come down into the submarine.

We climbed down the near-vertical staircase into the sub. The man spoke to us enthusiastically in Russian, but unfortunately we couldn't understand anything except "400 roubles." We paid for our tickets and he dramatically stamped them with a passport-style stamp proclaiming the date of our visit.

The C-189 is a Project 613 (NATO Whiskey Class) diesel/electric sub which was used by the Soviet navy between 1954 and 1990. It was built here in St. Petersburg, perhaps in the shipyards we saw yesterday. It is 76 meters long and weighs 1350 tons (submerged). After it was decommissioned it sank in Kronstadt Harbor.

The sub was rescued in 2005 by a local businessman and former submariner. After two years of restoration, it opened at a private museum. In the spirit of places like the Museum of Science in Boston, you are encouraged to touch and explore everything.

There were only a couple other visitors, so we basically had the place to ourselves and could spend as much time as we wanted exploring. It smelled of diesel (it used diesel on the surface, but electric batteries when underwater). We could stand at full height in the center of the sub. We started at the aft, where there were two torpedo tubes. There was a bathroom which had no walls, and was just nestled in within the other equipment. There were bunks and instruments galore.

We walked through engine rooms which had six engines with six pistons each. It was very narrow here. We could turn dials and gears, and pretend to man our battlestations. There were some dials that actually went from 0 - 11, for when they "need that extra push over the cliff. Of couse I had to set them to 11.

The floor was a grate through which you could see under the deck where the diesel engines are.

We saw the galley, which contained an oven and several burners with metal railings around them to prevent pots from slipping. Several vintage tins of food were on display. The officers had small offices (which contained books, a phonograph, cameras, a bust of Lenin, a photo of Brezhnev, etc.) They also had their own restroom, more private than that of the enlisted men.

There was a TV playing video footage of various Soviet submarines, and it played sound effects of sonar pings and torpedo noises. It was quite eerie to hear those sounds echoing through the submarine. (Of course I quoted the "one ping only" scene from "Hunt for Red October.")








We were able to look through the periscope and see the cars parked along the street outside. It was so cool! We saw the gyroscope compass as well as a sonar printout and a vintage Soviet computer.

At the fore of the ship were 4 torpedo tubes, along with several torpedos. It was totally surreal. Of course Craig had to pull a Dr. Strangelove and ride one of the torpedos! There were bunks suspended from chains, resting right on top of some of the torpedos.

We spent a lot of time exploring and photographing. Just before we were about to leave, an English-speaking guide named Igor approached us. He was a naval officer for 20 years, stationed on a nuclear submarine(!!) similar to the Kursk. He was really friendly, and explained a lot about the sub. He was apologetic about his English, but he was able to get his points across and we were quite pleased to get to know him.

The C-189 had a full complement of 54 crewmen, including 8 officers. The officers included the captain, a mechanic, a doctor, and a Communist party representative. The crewmen and officers were split into two crews, one of which was aboard at a time.

The C-189 could stay submerged for 5 days on battery power, then would need to ascend to run the diesel engines to recharge the batteries. There are 12 torpedoes onboard, 2 aft and 10 fore. The torpedo tubes measure 533 millimeters.

After spending over an hour and a half in the sub, we thanked Igor for the information, and stopped into the miniscule gift shop. I selected a magnet to commemorate the visit. When they gave it to me, they were proud to point out its secret identity as a bottle opener. There is no space to spare on a submarine, so having items perform multiple functions is preferable.

We climbed back up the staircase through which we had entered, and emerged topside. The ground was quite wet, as it had apparently rained while we had been aboard the sub. The wind now pelted us with sleet as we walked along the jetty and back to shore. It was very cold, but we decided we would continue walking rather than calling a cab. In our current direction, the wind was at least at our backs. We decided to take a shortcut which would take us away from the river more quickly, where it wouldn't be so cold.

We crossed the Neva via the Blagoveshchenskiy draw bridge. We passed a shop called Red October, which seemed particularly appropriate after our Soviet sub adventure.

On our walk back to the hotel, we stopped in at Russian Voldka Room No. 1. This is a restaurant which serves Russian cuisine and 200 types of vodka. We were hungry for a light lunch, and it's never to get started on the self-imposed obligatory five vodka shots for our fifth and final night in St. Petersburg. It also gave us a chance to warm up from the weather.

We looked at the vodka menu, and couldn't pass up Kalashnikov vodka. We ordered a round of shots and an order of venison dumplings. Both hit the spot so much that we ordered another round of both. Before leaving, we had a third round of shots. The Russian Vodka Museum is also housed in the same building, but we decided that we should head back to the hotel for a rest before attending tonight's dinner show at Katyusha Restaurant.

We stopped in at a liquor store and bought a bottle of vodka and a bottle of cranberry mors to take home. We passed some very picturesque buildings, and got a good view of the gilded steeple of the Admiralty. We stopped in to several souvenir shops. One had a large wooden statue of Putin riding a bear in the window. We bought a ballerina Christmas ornament, since we hadn't bought the ballerina music box.

We walked the rest of the way back to the Belmond Grand and took a well-deserved rest. Huge props to Craig, who walked 8 kilometers, climbed up and down the steep sub staircase, and squeezed through hatch doors despite an aching knee to make my Cold War submarine fantasy come true!!

Over the course of the day, his facial swelling had decreased. It wasn't visible, though he still had some physical discomfort.

We rested for a couple of hours, and then headed out for the dinner show. By now it was pouring rain, but the Katyusha Restaurant was only a couple of blocks away, so we didn't bother with our umbrellas. Arriving at around 8 o'clock, we stopped at the hostess desk and said that we have a reservation. "We know," the hostess said. She led us to the table we had occupied last night. We felt like regulars now. This place was so comfortable.

We started out with shots of Onegin vodka. Craig got an American Illusion APA beer, and I got a pitcher of cranberry mors. For appetizers, Craig ordered borscht with veal, and I ordered baked mushroom julienne with chicken under a cheese crust. Both were absolutely delicious! We knew that we would be here a while enjoying the show, so we were in no hurry and ordered one course at a time.

Another round of Onegin shots! For the main course, Craig ordered venison loin with cowberry sauce, and I ordered the elk cutlet breaded in sauerkraut with mashed potatoes that Craig had enjoyed last night.

The dinner show started at 9 o'clock. There was a female vocalist who sang Russian folk songs. She and a male dancer (as well as the servers, at various times) danced. They would do a couple of numbers and then take a short break, so that the servers could continue serving and the guests could continue dining.

When our server asked if I would like to try a cocktail served in a matryoshka doll, I couldn't resist. It was a fruity cocktail with ginger overtones - delicious! The glass was nested inside a large Semenov matryoshka doll, along with crushed ice.

The servers performed a folk dance with ribbons. They each held a ribbon (one end in each hand) and intertwined the ribbons in elaborate patterns while they danced, ending with a complex pattern which they maintained while they clogged in a circle. This all took place right in front of our table, so we had a great view.








Craig and I were enticed to play a game in which we had to wind a chain around a dowel and try to get to the center before the person on the other end of the chain did. We each lost our heats, but Craig got to wear a really cool fur hat.

We continued eating our meal, and one of the servers brought around a tray of complimentary flavored vodka shots. The party atmosphere was in high gear by the dance highlight: the kalinka. This traditional Russian song and its accompanying dance are quite synonymous with Russia, involving the male dancer doing squats, kicks, and handstands, and then spinning one of the female dancers around like a top. It was incredibly impressive and brought the house down!

Next, they announced that it was "disco time." They broke into a rousing rendition of "Venus." This was followed up by "Hava Nagila." I was called up to join a traditional dance to this Israeli folk song. The next song was "Volare." The male dancer took my hands and taught me some steps. We had a very nice time dancing to the entire song.

The singer tried to get Craig to dance. He held up his cane and shrugged, and she apologized. Craig was happy to have his cane as a valid excuse, because after all of this walking, there was no way that he felt like dancing!

Other patrons were dancing, especially when the song switched to "YMCA". There were a couple of tween girls who were really into it. I sat down exhausted, but one of the patrons encouraged me to join the conga line that wound in between tables in the various dining rooms.

There was a staff photographer who documented the evening, and the photos were subsequently posted on the restaurant's Facebook page.

Another round of Onegin shots! Being our 5th (and final) night in St. Petersburg, we expected to have 5 shots of Onegin vodka each. By the end of the night, Craig had 8 and I had 7, in addition to a complimentary flavored vodka shot. Nazdrovya!

We stayed at the restaurant from 8:00 - 11:30. It was a wonderful way to spend our final night in Russia. This trip has been more than I could have ever dreamed!






C-189 Submarine



Restaurant Katyusha




Soviet whiskey class submarine C-189




Craig pretends to ascend the exit ladder




Periscope view of Leytenanta Shmidta Embankment
and Tserkov Uspeniya Presvyatoy Bogoroditsy




Craig's take on Dr. Strangelove




Torpedo tubes and torpedoes at the fore of the C-189




Former nuclear submarine officer Igor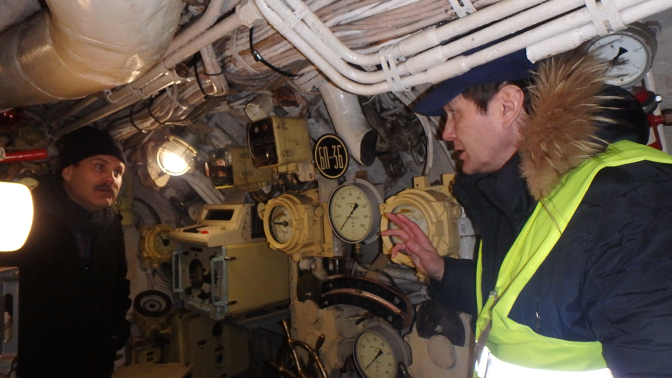 Former nuclear submarine officer Igor talks to Craig about the C-189




C-189 Whiskey class submarine




Blagoveshchenskiy Drawbridge




Enjoying a cocktail served in a matryoshka (photo courtesy of #Katyusha)




My fellow dancers (photo courtesy of #Katyusha)




A wonderful final evening in Russia (photo courtesy of #Katyusha)